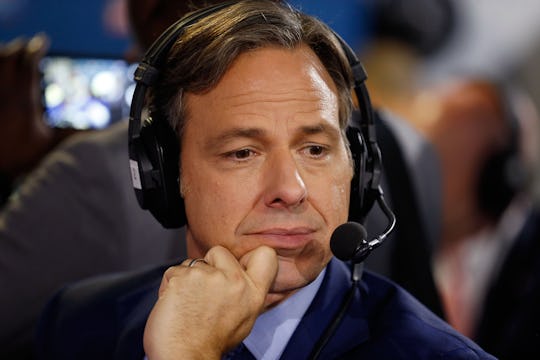 Kirk Irwin/Getty Images Entertainment/Getty Images
'SNL' Goes Full On 'Fatal Attraction'
If there's ever been a toxic relationship, it's been the one between the media and the Donald Trump administration throughout this entire presidential transition. This weekend Saturday Night Live did a Fatal Attraction parody with Jake Tapper and Kellyanne Conway and nothing could have ever been so true. It was so funny, it almost hard to laugh.
In the sketch, Beck Bennett plays CNN anchor Jake Tapper trying to keep his journalist chops, only to come home to a Fatal Attraction-esque Kellyanne Conway, played by Kate McKinnon. Things get creepier from there. After he enters his condo, he finds Conway sitting at his counter, not ready "to be ignored." "I just want to be a part of the news, Jake," she says. He tries to appease her by offering a spot on Fareed Zakaria's show. "Fareed Zakaria?! I have an office in the White House!"
"You made up a massacre," Bennett's Tapper explains, referencing the fake terrorist attack the White House advisor made up during televised interviews last week. She offers to do whatever it takes, even if it means hawking Ivanka Trump shoes on-air. Har har.
"You need, me, Jake," she says. "Think of the clicks," which is a pointed reference to how hard the media, and CNN in particular, has it these days in covering the Trump administration. It's not easy. It has a fatal attraction to both.
The sketch ends with Conway throwing herself out of the window — a la Glenn Close in Fatal Attraction — but landing on her feet. She's not Kayleigh McEnany, she says of a Trump supporter who was given a seat at many a CNN roundtable throughout the election cycle but has been absent ever since. It's all about the clicks, as McKinnon's Conway notes.
Earlier this week, there was some beef between the cable news network and Conway after they claimed to have not booked the Trump advisor due to "credibility issues," which were referenced in the sketch. Conway, in real life, tweeted at the network that that wasn't true. "False. I could do no live Sunday shows this week BC of family. Plus, I was invited onto CNN today & tomorrow. CNN Brass on those emails," she tweeted. The CNN communications team immediately responded, tweeting that the advisor, "was offered to SOTU on Sunday by the White House. We passed. Those are the facts."
The sketch wasn't just a silly parody of Fatal Attraction or a shot at Conway, though some might see it as such. As she prepares to make her final exit, McKinnon's Conway says that she'll "just call HuffPost Live," but when she dials, no one answers at the digital news organization. As she does, Bennett's Tapper yells, "no one watches that!"
But people are watching everything these days and it's no joke that CNN, HuffPost Live, and many other news organizations are competing with each other for juicy, "clicky" news as much as they aren't into answering Conway's calls in real life or on Saturday Night Live anymore. Especially since she has officially been offering "alternative facts" in interviews.
These are strange times we're living in if Fatal Attraction can best explain the twisted relationship between the media and the administration. Just like crazy love: it's so real, it hurts.