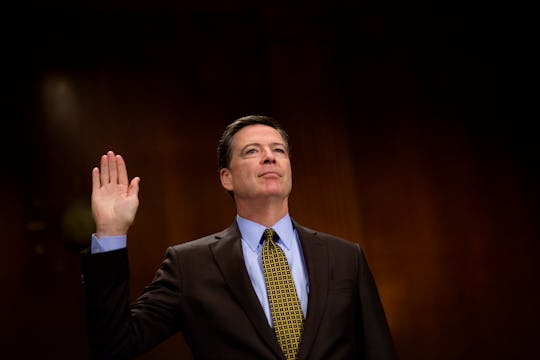 Eric Thayer/Getty Images News/Getty Images
James Comey Could Appear Before Congress As Early As Next Week
On Tuesday, FBI Director James Comey was abruptly fired by President Trump, just two days before Comey was scheduled to appear before an intelligence committee meeting on Capitol Hill. On Wednesday, the Senate Intelligence Committee confirmed that James Comey has been asked to appear before Congress as early as this Tuesday, in a joint invitation issued by both Sen. Mark Warner and committee chairman Sen. Richard Burr. Comey has not yet responded to the invitation to appear before a closed session of the committee, according to CBS News.
Comey appeared before Congress at a Senate Judiciary Committee hearing last Wednesday. At the hearing, much focus was paid Comey's decision to send a letter to Congress just days before the election regarding Hillary Clinton's use of private email servers. He was scheduled to appear before Congress again on Thursday, but following Comey's firing, acting FBI Director Andrew McCabe will appear instead before the Senate Select Committee on Intelligence in Comey's place.
Given that the FBI is one of six agencies investigating possible collusion between the Trump campaign and Russian officials, Comey's testimony — whether public or otherwise — is critical to the two congressional intelligence committees' own investigations into Trump's Russia ties.
While it may seem as though Comey's ouster has effectively put a gag order on the FBI's investigation into Russian interference in the 2016 election, there's actually nothing stopping Comey from testifying in a congressional hearing, even as a private citizen; his appearance before Congress after being fired by the administration would not be unprecedented.
His dismissal comes just a day after Sally Yates, the Trump administration's former acting attorney general, appeared before the Senate Intelligence Committee to answer questions about alleged Russian collusion within the Trump administrations. Yates was fired after refusing to enforce Trump's travel ban executive order in January.
Comey's firing has been met with widespread shock and disapproval in Washington on Wednesday. Senate Intelligence Committee Chairman Richard Burr told The Washington Post on Wednesday that Comey's firing "creates challenges for the committee." Burr continued," An interruption in any of the access we have to the documents or the personnel would be harmful to our investigation." While Comey has yet to respond to Burr and Warner's invitation to appear before the committee, it's clear that whatever testimony Comey can provide is critical to their investigation. Even though Tuesday's hearing is scheduled to be a closed door session, Comey may not be able to say much.
Trump's seemingly rash decision to fire Comey could backfire in spectacular fashion. Following Comey's ouster, a growing number of lawmakers on Capitol Hill are now calling for an independent investigation by a special prosecutor to spearhead the investigation into possible Russian collusion and the Trump campaign. Maine Sen. Angus King, a member of the Senate Intelligence Committee, proposed that Comey should be the special prosecutor when speaking to CNN on Wednesday. When asked whether or not Comey could actually serve in that role, King replied, "I don't know why not. He's a free man as of today. Doesn't have a job."