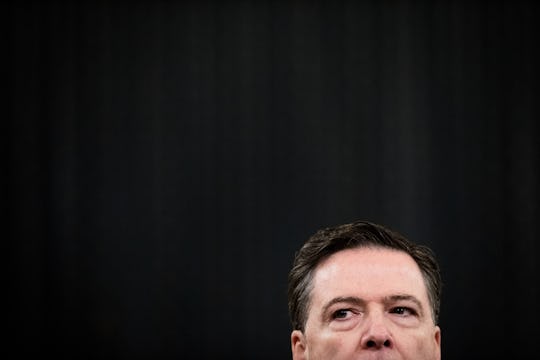 Drew Angerer/Getty Images News/Getty Images
Comey Reportedly Hid In Curtains To Avoid Trump
In possibly the best story of the year, The New York Times reported on Thursday that former FBI director James Comey reportedly tried to blend into the curtains once in order to avoid President Donald Trump during a White House event. After coming under fire from the public for the way he handled the investigation into Democratic candidate Hillary Clinton's emails during the election, Comey reportedly wanted to keep a certain level of distance from the president in order to maintain the FBI's independence. In one instance, it appears the only way for Comey to do that was to try and become one with the curtains in the White House's Blue Room.
The curtain incident (as it should henceforth be known) allegedly occurred at a ceremony that Trump hosted to thank law enforcement officials for providing security at the inauguration. According to Benjamin Wittes, a fellow at Brooking Institution and reportedly a friend of Comey's, the former FBI director was hesitant about even attending the event.
"Comey really did not want to go to that meeting," Wittes told PBS on Thursday. "There were a lot of Democrats who kind of blame him for Trump, so he was particularly sensitive to the idea of a sort of show of intimacy or closeness with Trump."
According to Wittes, Comey wanted to blend in (despite standing at a height of 6 feet and 8 inches), so he stood by the curtains in the back of the room, hoping in his dark blue suit would help him escape Trump's attention. Video footage of the event shows that, if he was indeed trying to hide, Comey's stealthy attempts were unsuccessful: Trump singled him out and pulled him in for an uncomfortable, one-sided hug.
The story is pretty awkward and hilarious, but luckily, that's the internet's favorite kind of story. Curtain-themed GIFs and reactions quickly popped up on social media, and they were just as great as you'd expect.
There's more to the curtain story than simply its fantastic GIF potential, however. Sources have claimed that Comey was forced to repeatedly dodge Trump's attempts to become friendly during their brief time working together, and according to Reuters, Trump once allegedly asked Comey to end the FBI's investigation into Michael Flynn, Trump's former national security adviser. Romper reached out to the White House for comment but did not hear back immediately. However, the White House told Reuters in a statement on Wednesday that the allegations were not "truthful or accurate."
On a separate occasion, Trump reportedly asked Comey for his loyalty at a private dinner — another event that the White House said did not occur. "We don't believe this to be an accurate account," Sarah Huckabee Sanders, the White House deputy press secretary, told The New York Times last week. She continued:
The integrity of our law enforcement agencies and their leadership is of the utmost importance to President Trump. He would never even suggest the expectation of personal loyalty, only loyalty to our country and its great people.
While accounts of what happened between Comey and Trump continue to be disputed, one thing's for sure: whether true or not, the curtain story makes for some fantastic comedic relief amid all of the other political news out there at the moment.