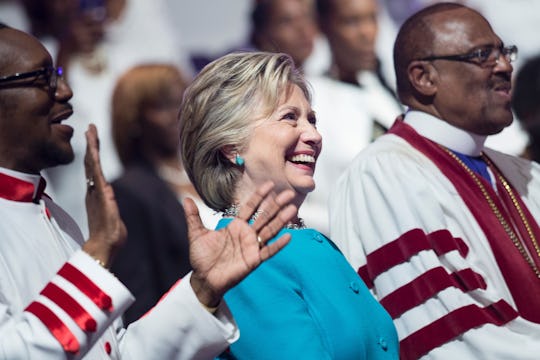 BRENDAN SMIALOWSKI/AFP/Getty Images
James Comey Says Hillary Clinton Will Not Face Indictment Over Additional Emails
In a new letter addressed to select chairmen of Congress this week, FBI director James Comey said Democratic candidate Hillary Clinton will not face indictment over additional emails that could be connected to her use of a personal server. The FBI reportedly worked around the clock to process any newly discovered emails that were sent to or from Clinton while she was Secretary of State. The additional messages turned up during an unrelated investigation into former Congressman Anthony Weiner's communications, after allegations arose that Weiner was reportedly trading sexual text messages with an underage girl.
During the investigation into Weiner's communications, emails between the Democratic nominee and her top aide Huma Abedin (who is also Weiner's ex-wife) were found on Weiner's laptop, causing the FBI to reopen its investigation into Clinton's use of a private server to send and receive governmental emails. The FBI had previously closed its investigation into Clinton's server usage in July, and Comey recommended against prosecuting Clinton at that point.
Then, four months later, Comey sent a surprising letter to members of Congress, informing them that the FBI would be investigating additional emails that appeared to be related to Clinton's use of a private server. It was a move that was widely criticized by the Clinton campaign and reportedly went against department policies, which dictate against commenting on politically-charged investigations within two months of an election, according to CNN. Comey's letter was sent 11 days before the election.
In his letter written on Nov. 6 — just two days before the presidential election — Comey course-corrected, writing: "Based on our review, we have not changed our conclusions that we expressed in July with respect to Secretary Clinton." For over a week, however, the idea that Clinton could be indicted over her use of a private server was floated once again, usually by her opponent, Republican nominee Donald Trump.
"There's little doubt that FBI Director Comey and the great special agents of the FBI will be able to collect more than enough evidence to garner indictments against Hillary Clinton," he said at a campaign rally in Denver on Saturday. "Look at the way she's handled the email mess. ... This is the way she'll run the country."
Clinton was in the middle of a flight when Comey's second letter was released, but campaign spokeswoman Jennifer Palmieri told reporters: "We are glad to see that [Comey] has found, as we were confident he would, that he has confirmed the conclusions that he reached in July and we are glad that this matter is resolved."
While the letter may lay to rest the issue of Clinton's emails, it's sparked an entirely new conversation, with both politicians and political commentators asking why — without any evidence of wrongdoing — Comey's original letter was sent in the first place.