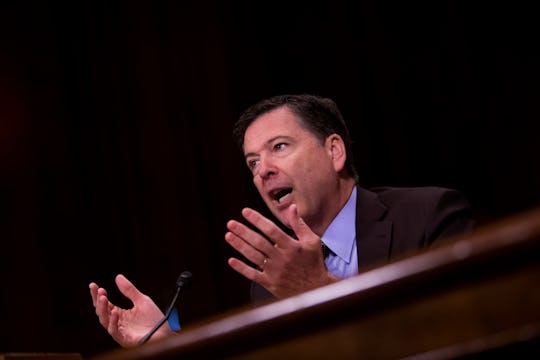 Eric Thayer/Getty Images News/Getty Images
Twitter Reacts To James Comey Being Fired
On Tuesday, the White House confirmed that President Trump had fired FBI Director James Comey after members of his administration recommended it. Although the official reasoning behind why he was let go is still being heavily debated, there are already plenty of James Comey "You're Fired!" tweets that attempt to explain the drastic move by the administration. Romper has reached out to both the White House and FBI for comment on the dismissal and is awaiting a response.
According to a statement from the White house, the administration will begin looking for a replacement "immediately." Trump said in a statement:
The FBI is one of our Nation's most cherished and respected institutions and today will mark a new beginning for our crown jewel of law enforcement.
In his letter to Comey, effectively firing him, Trump thanked Comey for informing him that he wasn't under investigation, but that he believed the director wasn't effectively managing the agency. According to a letter sent from Attorney General Jess Sessions to the president on Tuesday, the reasoning for firing Comey is that he wasn't following Department of Justice standards. Another, from Deputy Attorney General Rod Rosenstein, implies that Comey's decisions surrounding Hillary Clinton's email scandal late last year might have something to do with it.
Twitter, of course, has it's own theories about Comey's dismissal.
Comey's dismissal comes on the heels of news that he gave false testimony to Congress last week concerning Hillary Clinton's emails leading up to the election. Comey said that the FBI had uncovered "hundreds and thousands" of emails sent from Clinton's top aide, Huma Abedin, to her then-husband Anthony Weiner's computer, allegedly for him to print for her.
This week, ProPublica reported that the FBI knew that Comey's testimony was misleading and was preparing a letter to Congress to address the situation. As of Comey's firing, the agency still had not done so.
But Comey's dismissal on Tuesday will likely raise eyebrows from both parties for other reasons, especially since the recommendation from Rosenstein made an argument against Comey for his alleged political stance. The FBI is also currently investigating any connections between the Trump campaign and Russia last year, so firing the director could be construed as a political maneuver. People on Twitter are already suggesting it.
Since taking office, Trump also fired acting Attorney General Sally Yates after she questioned his proposed travel ban and warned him about former National Security Adviser Gen. Michael Flynn's possible conflicts of interests. Trump fired Preet Bharara, a U.S. attorney from New York who was allegedly investigating Trump's administration for corruption, as well.
For now, though, the official reason is that James Comey wasn't doing his job the way the administration would have liked him to. Whatever that actually means will likely be discussed in the coming days and weeks while the administration hunts for a replacement and elaborates on the decision.