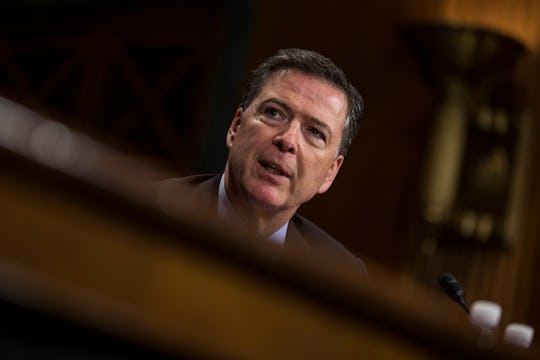 Zach Gibson/Getty Images News/Getty Images
James Comey Reveals Trump Details In Senate Statement
As most Americans are aware, former FBI Director James Comey, whom President Trump fired last month, is preparing to speak to the Senate on Thursday, June 8, 2017. Comey is expected to testify about his interactions with Trump, and any issues of concern regarding the ongoing Russia investigation. Comey's statement about Trump, which was posted on Wednesday, just one day prior to him taking the hot seat, is scarily revealing, and shines more light on what really happened between the two men.
According to the seven-page document of Comey's prepared opening statements, which was released by the Senate Intelligence Committee Wednesday afternoon, Comey will be discussing several of his interactions with Trump, both before and after he took office. Comey will describe to the committee a January 6 briefing with Trump, a January 27 dinner, a February 14 meeting in the Oval Office, and two phone calls on March 30 and April 11. It was the April 11 phone call that Comey describes as being, "the last time [he] spoke with President Trump," before his May 9 termination. In all of these recollections, however, it's important to remember that Comey admits he has "not included every detail from [his] conversations with the President," but that what he is prepared to say are the issues he feels are of the utmost importance to the Senate's investigation.
As has been previously reported, Comey describes Trump expressing a defined expectation of "loyalty," from Comey. At the January 27 dinner, to be exact, Comey recalls Trump telling him, "I need loyalty, I expect loyalty," while the two were dining in the Green Room of the White House. Comey recalls feeling uneasy, especially "given the FBI's traditionally independent status in the executive branch," about the way Trump was treating him, and that dinner, in particular.
But it wasn't just the dinner that Comey found to be of importance. As the Senate Intelligence Committee will be investigating whether or not Trump decided to fire Comey because of the ongoing Russia investigation, there are several other occurrences that Comey mentions in his statements. The February 14 Oval Office meeting also sheds some important light onto Trump's handling of Michael Flynn's resignation the day before.
In short, Trump said to Comey, "I hope you can see your way clear to letting this go, to letting Flynn go," after asking several other officials to leave the room. Again, Trump's actions point to a clear disregard of previous and traditional FBI-White House relations.
As Comey reminded Trump back at the January dinner, the job of the FBI Director is "honesty," and, as evidenced in the April 11 phone call, that is exactly what Comey attempted to do.
That day, Trump reportedly called Comey to ask him again what he was doing to let people know that Trump was not personally under any investigation. Then, Comey informed Trump that the proper way to handle such a request was "to have the White House Counsel call the Acting Deputy Attorney General," but that didn't seem to appease Trump all that much.
"Because I have been very loyal to you, very loyal," Trump told Comey, "we had that thing you know." Although Comey himself is unsure what Trump meant by "that thing," his opening statement makes very clear that, no matter what, tomorrow's Senate hearing will definitely be one to watch.