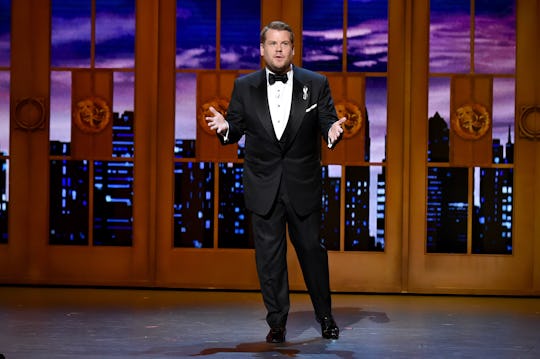 Theo Wargo/Getty Images Entertainment/Getty Images
James Corden Calls Out Tonys Nominees 'Law & Order' Performances & There Are Many
At Sunday night's Tony Awards, host James Corden has been absolutely slaying it since the moment he took the stage. After his amazing Tonys opening musical medley of Broadway classics, Corden has been providing hilarious moments in between presenters and performances. One of the funniest interludes of the night was when James Corden called out Tonys nominees Law & Order performances — and there are many, as it turned out. Corden mused that some viewers at home may not be entirely familiar with the names of many of the actors and actresses up for awards, so he took a moment to point out some of the more "well-known" names in attendance at the Tony Awards.
The camera panned to Claire Danes as Corden said people might know her better from her role as "Tracy Brandt" on Law & Order — the quip was met with hearty chuckles from the audience, who wondered where Corden was going with his bit. He then pointed out Billy Porter, saying, "you may know him as Greg Ellison from Law & Order," and the running gag only took off from there. Next featured were Daveed Diggs and Hamilton co-star Leslie Odom, Jr., who happened to guest star together in the same episode of Law & Order — side by side no less.
But the most impressive resume of the Law & Order guest stars in attendance went to Danny Burstein, currently starring as Tevye in the Broadway revival of Fiddler on the Roof. Burstein has appeared in a whopping six guest roles spanning 15 years on the quintessential New York City crime drama.
There a surprising amount of famous actors who got their start on Law & Order, including Jennifer Garner, Rooney and Kate Mara, Peter Sarsgaard, and Philip Seymour Hoffman. It almost seems like a longstanding in-joke within the television industry that everyone gets their start on Law & Order and it turns out that's not actually just a joke. In a piece examining the Law & Order effect that spans Broadway and Hollywood for Backstage, Stacy Lambe writes:
Pick up any Playbill and a Law & Order will be listed in almost every cast member's bio. The series is often a gateway to more TV work: More than 30 Orange Is the New Black cast members have appeared on one of the five franchise series.
Corden's Law & Order call outs were totally on point and if anything, appears to be a common denominator of some seriously great acting talent.