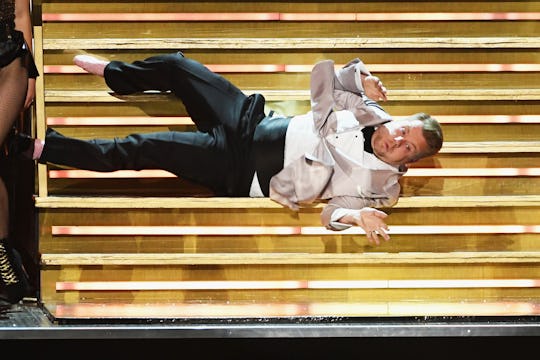 Kevin Winter/Getty Images Entertainment/Getty Images
James Corden's Grammys Monologue Was On Point
James Corden seemed like a natural fit to host an award show like the 59th Annual Grammy Awards, and not just because he's a successful late night television host. Corden has always been musically inclined, having been featured on a few artists' singles (including Dizzee Rascal's "Shout" and Kylie Minogue's "Only You") and belting out some show tunes as one of the main characters in the musical-turned-film Into the Woods. His "Carpool Karaoke" segment has also gotten hugely popular for its fun and casual sing-a-longs with well-known artists, as well as Corden's clear love for music. With all of that in mind, it was no surprise that James Corden's monologue at the 2017 Grammys was equally as humorous and lighthearted as his usual gimmick (even if it did have people in the audience — and at home — panicking a bit at first).
Corden's introduction seemed to start off rocky when the platform that was supposed to lift Corden up onto the stage seemed to malfunction and only brought him halfway up, leaving him to struggle to his feet. By the time he took a spill down the stairs with one shoe missing, it was clear that the mishaps were planned. The hook of his opening monologue was that everything was going totally wrong. He transitioned the faux faux-pas into a rap about moving past the mistakes and addressed all the celebrities in the audience (some of whom seemed a little confused at first). It may have been a little difficult to understand him, but it was clear he was enthusiastic about the ceremony.
Leading up to the Grammys, Corden had said that he wouldn't have much time for a showy monologue or another installment of "Carpool Karaoke" because he would only be on stage for about 18 minutes total during the duration of the show. Still, he managed to find a way to show his enjoyment of music in his award show opener.
Before the show, Corden had already been more than enthusiastic about all of the amazing performances in store – even though he had no plans to join in with them. "I would never inflict that on the people of America, dare I say the world," Corden said of his own singing. "It's one thing singing alongside someone in the car, but this is the Grammys! No one's interested in that."
According to Corden, the show wasn't about him, it was about showcasing all the talented musicians who were there to be honored. "The truth is, when you're hosting a show like this, it's not really about me, it's about these incredible artists," he told CNN before the show. "So I'm going to try and usher it around in as positive and warm and fun way as possible, and really hope that we don't ruin everything."
Corden's opening monologue stayed true to his hopes. It was lighthearted and well-meaning, and tried to keep the focus on the performers – just like Corden wanted.