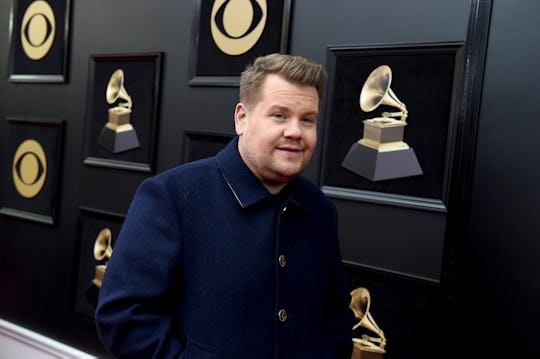 Kevin Winter/Getty Images Entertainment/Getty Images
James Corden's Monologue Summed Up Men In 2018
The first time Late Late Show host James Corden hosted the Grammy Awards in 2017, there were plenty of memorable moments. Whether he was bringing his popular "Carpool Karaoke" segment to the stage or taking a planned pratfall down a flight of stairs, he was giving viewers something to talk (OK tweet) about. His second year hosting the event was different, however. On Sunday he acted as a humble awards-show steward, such that there wasn't that kind of moment in James Corden's opening monologue at the 2018 Grammys designed to spark the internets. Rather, he kept it suuuuper low-key.
Before the award show aired, Corden told Variety that his intention as a host was to honor and celebrate all the nominees. According to him, the Grammys didn't even need a host (though he would still be there to keep things running smoothly). He praised the lineup of performers, and said, "The most important thing is to not have any ego about it as a host. You don't go 'I want to do this and I want to do that.' That's not what the job is. This is all about this music. It's all about these great artists. We're just going to try to bring in some little tiny pockets of joy wherever we can."
That definitely seemed to be his M.O. — his opening monologue was little more than a blink-and-you'll-miss-it moment between performances. It's clear that Corden stuck to the idea of making the performers the stars of the night, because he merely gave a quick zinger before handing off the stage from Kendrick Lamar to Lady Gaga. The joke was that this was an incredibly diverse show... but for the second year in a row, the host was not.
He took his cue from Seth Meyers, who centered his Golden Globes monologue around the awkwardness of a white cis-male fronting an awards show in which systemic power imbalances were front and center. Meyers spoke to a group of actors there representing #MeToo, and for Corden, the sea of white roses reminded him that this moment is not exactly meant for men to bask in their own dominance. It may be good to see white cis-male hosts pointing things like this out, but it would also be nice to see someone host a big award show who does represent those diverse nominees a little better.
Corden also gave a silent nod to the #MeToo movement with the white rose on his lapel. He told the Associated Press that he would be wearing a white rose to support both #MeToo and Time's Up, a plan that had been devised by an unnamed group of music executives. However, by not commenting on it directly during the show itself, many people in audience might not have been aware of the significance of the flower.
Corden continued to keep the focus on the nominees and performers throughout the early part of the evening. When he did appear, it was for a few minutes of comedy before moving on to the next number. He took a moment to praise Jay-Z and make a few quips about his lack of New York City knowledge by bungling names and locations. But otherwise, Corden hosted by ushering from one act to the next instead of dominating the conversation with big laughs or pretend falls.
It was a change from the last time he hosted the Grammy Awards, but at the end of the day, it was probably the right move to make. This night should be all about letting the artists shine, and that was what Corden did by keeping his appearances minimal. His brevity spoke volumes — that, men, it isn't all about you in 2018.
Check out Romper's new video series, Romper's Doula Diaries:
Watch full episodes of Romper's Doula Diaries on Facebook Watch.