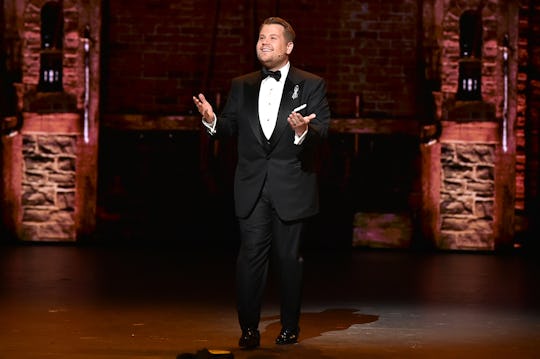 Theo Wargo/Getty Images Entertainment/Getty Images
James Corden's Tonys Opener Was Exactly What The World Needed Sunday
The 70th Annual Tony Awards opened on a somber note Sunday night, following the tragic Orlando shooting. But James Corden's Tonys opener was a lively medley that opened the show on such an inspirational note. Before delving into the song and dance that make the Tonys what they are, Corden took time to acknowledge the victims of the Orlando shooting, which occurred early Sunday morning. Earlier on Sunday, the Tony Awards's Twitter account announced that this year's Tonys would be dedicated to the Orlando victims. After his remarks acknowledging the tragedy, Corden began his opening number, a dizzying blend of callouts to musical theatre's classics.
Corden disappeared behind stage as members of the cast of Hamilton came out to riff on plenty of Broadway in-jokes; they were joined by Corden to the tune of the "Just You Wait" from Hamilton. After the brief musical interlude, Corden launched into a devastatingly hilarious opening monologue that included quips like, "This is like the Super Bowl for people who don't know what the Super Bowl is," and, "Think of tonight as the Oscars, but with diversity. It is so diverse, that Donald Trump has threatened to build a wall around this theatre." Corden's monologue game was totally on point to start the Tony Awards with everyone already laughing.
The musical opener went on with Corden doing a number of quick changes expressing how he could play any role he wanted, from Jean Valjean in Les Miserables to Maria in The Sound of Music. Each musical theatre shoutout came quicker and quicker, with name checks for The Music Man, Guys and Dolls, Annie, Gypsy — and probably a dozen more that I missed in the frenzy of Corden's amazing musical theatre tribute. After the whirlwind tour of Broadway's best roles, Corden joked, "Sorry I'm not entirely sure about what happened there. I blacked out. Have I ruined it, Oprah?"
The musical opener ended with a few dozen children on the stage, as Corden sang, "This could be where you belong" — that Broadway is open to every "theatre kid with stardust in their eyes," to "the kid performing at the Y." It was a truly moving, inspirational moment of inclusion and celebration of the theatre community. Watch Corden's full 11 plus minute Tony Awards opener below:
Amid the darkness and tragedy after the Orlando shooting, Corden's Tonys opener reminded us of the power of theatre to unite and lift everyone up.