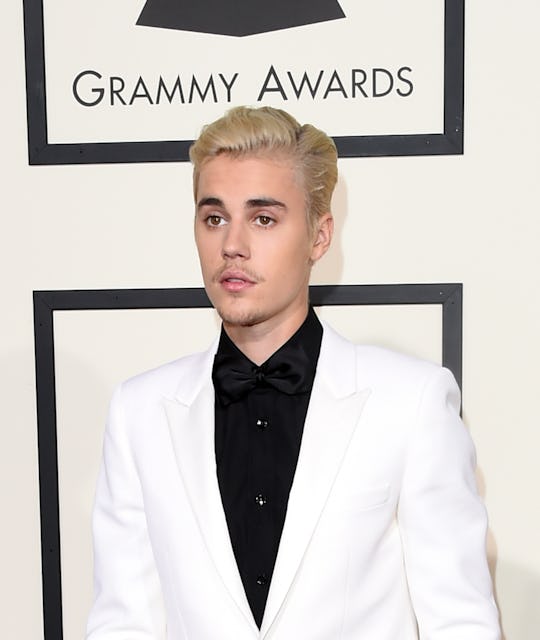 Jason Merritt/Getty Images for NARAS
James Cordon's "Carpool Karaoke" With Justin Bieber Looks Amazing
They might seem like an unlikely duo, but Justin Bieber and James Corden were the Grammys couple to talk about, having rode with one another to the event. The official Grammys Twitter account posted a pic of the late night host and pop star on the way to the red carpet, hinting at a Corden and Bieber "Carpool Karaoke," which, judging from the pictures, looks like it could be one of the goofiest performances yet. For the Grammys' edition of the popular segment of Corden's Late Late Show, the two are donned in their red carpet tuxes looking pretty dapper. But then things just get silly — as they should if karaoke is involved.
How silly? Well, the teaser showed Corden asking Bieber to help him apply moisturizer on his T-zone. Because friends don't let friends drive all dried out.
It's mildly awkward until they get down to business. The duo sings Bruno Mars and Mark Ronson's "Uptown Funk," which is nominated for Record of the Year, Best Pop Duo/Group Performance, and Best Remixed Recording, Non-Classical.
But Bieber actually doesn't seem all that enthused to be singing the hit single of the year. And quite frankly, why would you have the Biebs sing anything but one of his current singles, like "Sorry" or "What Do You Mean?" I know that's not the point of the segment, but Bieber always looks like he could use a little more validation than he often gets. And considering how well that formula worked for Adele or Elton John, why not do the same for Bieber?
Hopefully, the full-length version will be featured during the ceremony or on The Late Late Show Monday night. Because as a recent Bieber convert, I sort of need that in my life right now.