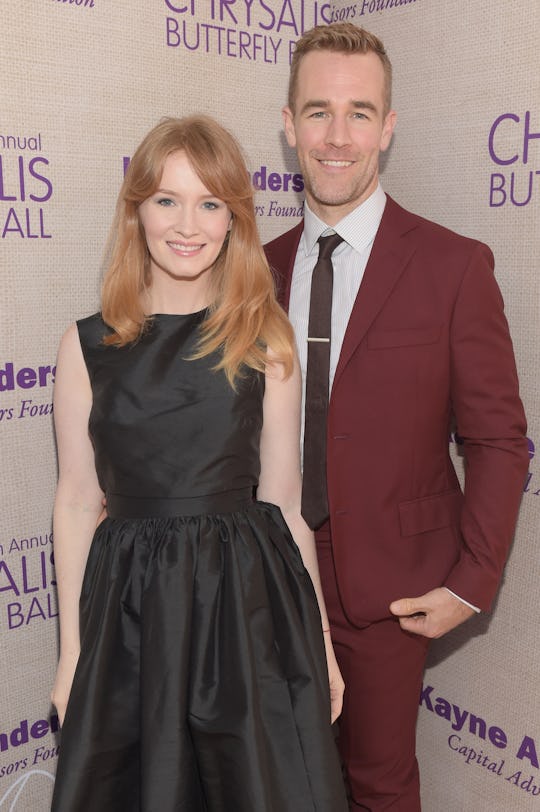 Jason Kempin/Getty Images
James Van Der Beek Expecting Fourth Child With Wife Kimberly, & I Don't Wanna Wait To Hear All The Details
It's been over 10 years since Dawson's Creek went off the air. And in the many years since, Dawson Leery has grown up. Seriously though, IRL, James Van Der Beek is expecting baby number four with wife, Kimberly, according to People. (When did that happen?!) Mrs. Leery, aka Kimberly Van Der Beek, posted the news on Instagram Thursday, along with a caption that read, "So grateful to share with you today that we're pregnant with our fourth child!" The couple's three other kids include Olivia, 5, Joshua, 3½, and Annabel Leah, 21 months. The former Dawson's Creek star plans to continue his gig playing Elijah Mundo on CSI Cyber.
With an even fuller house, and a new show, there's little doubt this hands-on dad — who once told People that "changing diapers keeps me grounded" — will be keeping busy. In fact, he told People in 2014, when the couple was on the cusp of welcoming Annabel Leah, "There are moments where we will be dealing with the two, it will be a handful and I'll think, 'Well, this is about to get even trickier.'" You could say that again.
But by all accounts, Van Der Beek adores being a dad, having said that "fatherhood changes you from the inside out." It's no wonder his wife Kimberly looks aglow in this birth announcement on Instagram.
Van Der Beek reposted his wife's photo on his Instagram captioning it, "Feeling ridiculously blessed." He also took the time to thank friends and fam who knew about the pregnancy and kept it under wraps until the couple decided to make the announcement.
On fatherhood, Van Der Beek also told People, "It's not this thing where you think, 'Oh, I have to be responsible, I have to take more on.' You just want to, almost automatically." It's fair to say our favorite preppy film buff from the Creek has gone on to feather quite the nest of his own. And if you're wondering about Pacey, Dawson's sidekick, aka Joshua Jackson, he's doing just fine, (and by fine, I mean fiiiiiine) starring on The Affair, and in a longtime partnership with Diane Kruger.
Image: Jason Kempin/Getty Images; Giphy