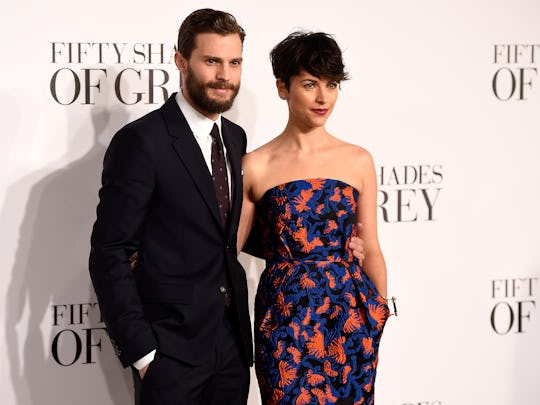 Ian Gavan/Getty Images Entertainment/Getty Images
Jamie Dornan & His Wife Welcome Their Second Child, But They're Keeping It Low Key
Word on the street is that Fifty Shades of Grey actor Jamie Dornan and Amelia Warner have welcomed their second child. While the couple hasn't made an official announcement, photos of Warner pushing a stroller have surfaced, and a source has told Entertainment Tonight that the family now has two daughters (their first child, Dulcie, is 2 years old). It's no surprise that they haven't announced the birth to the world at large; they were private about the pregnancy, and it took E! News almost a month to get a representative to confirm the birth of their first child (and even then her name was initially held back).
While Warner is at home in England with the baby, Dornan is reportedly in Vancouver filming Fifty Shades Darker, which has got to be weird. He was filming Fifty Shades of Grey during the gestation and birth of his first daughter, too, so I guess he's used to it. Dornan spoke to British Vogue last year about the odd timing: "We had to get to Toronto [where the film was shot] as soon as I found out, because my wife was due to give birth imminently. Only now am I realising how mad that whole period was: the filming, the baby, the way the job came about…"
Dornan met Warner in 2012, and the pair married the following year. Warner was once an actress herself, but gave it up because she preferred a career in music, as she told The Telegraph:
It wasn't fulfilling. You have no control, there is no responsibility, you go to the audition, and you either get the part or you don't – that's as much choice as you have. Then a year later you see the end product and you can be in a completely different film from the one you thought you were making. It started to get really frustrating. At least with music, you can write a song and it exists in the world, even if no one hears it. That's lovely.
Speaking with Stylist about the birth of his first daughter, Dornan described it as a "mad situation," saying that even though his father and stepmother are obstetricians, he was still shocked by what he saw: "I've been around a lot of baby talk in my life. But still, nothing actually prepares you." But he settled into parenthood quickly, telling the magazine that he actually enjoys changing diapers. Luckily for him, when he gets home he'll now have twice as many to change.