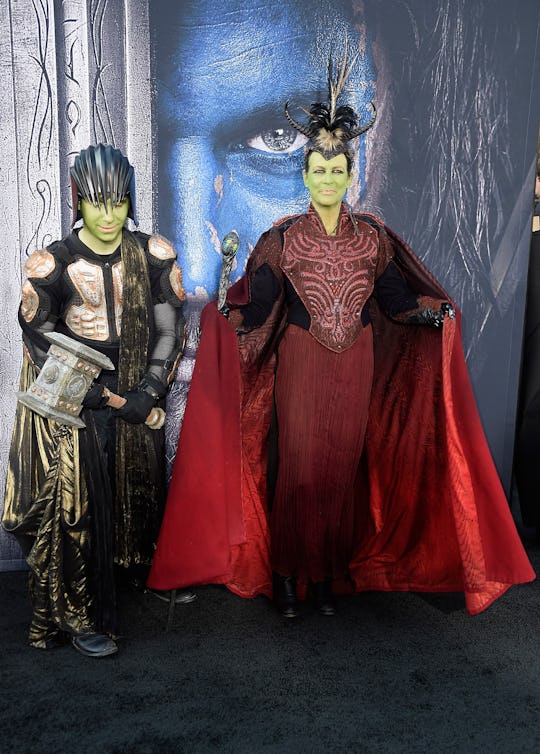 Frazer Harrison/Getty Images Entertainment/Getty Images
Jamie Lee Curtis Cosplayed With Her Son & Proved She's Total #MomGoals Material
I love a mom who is not afraid to have a little fun with their children. Whether it is playing pretend tea parties for hours on end or dressing up in family costumes for Halloween, any mom who is not afraid to have some fun with her children is cool in my book. Perfect example: At a recent premiere, Jamie Lee Curtis cosplayed with her son, proving just how cool of a mom she really is and giving a new meaning to #MomGoals.
Curtis and her son showed up to the Warcraft premiere with her son, Thomas Guest, dressed as orcs from the World of Warcraft universe. Both mother and son donned green face paint and full costume, including props, making it one of the most impressive costumes that I have seen done by anyone, let alone a celebrity. According to the World of Warcraft Wikia, orcs have green skin and are "one of the most prolific races of Azeroth" — or the world where most of Warcraft takes place. Meaning that Curtis and her son must really know the ins and outs of Warcraft.
"We're serious about our games," Curtis told Entertainment Weekly. Curtis told the magazine that her son plays World of Warcraft, so I'm sure that he was more than excited to attend the premiere. The funniest thing about the two dressing up for the red carpet? Curtis doesn't even star in the film. She was just there to attend the event and look freaking amazing in the process.
But this is not the first time Curtis has donned cosplay, let alone World of Warcraft cosplay. Indeed, Curtis is right — she is pretty serious about some games. In November 2015, Curtis attended BlizzCon — a convention based around the games made by Blizzard Entertainment (such as World of Warcraft) — dressed as a Foresaken character from the game.
But Curtis and her family are also no strangers to conventions either. Curtis, her husband, their son, and Curtis' sister attended another convention — EVO in Las Vegas, Nevada — with everyone in the family dressing up in full costume. Curtis, of course, went incognito donning a mask and claws as the character Vega from Street Fighter.
Curtis' sheer enthusiasm for conventions, games, and dressing up is absolutely incredible and further proves why she is definitely #MomGoals material. Any mother that is willing to attend gaming conventions, incognito or in full costume, just for their child is pretty dang cool in my book. Curtis shows that she is unafraid to nerd out with her son and go all out. So let's take notes for Halloween, folks.