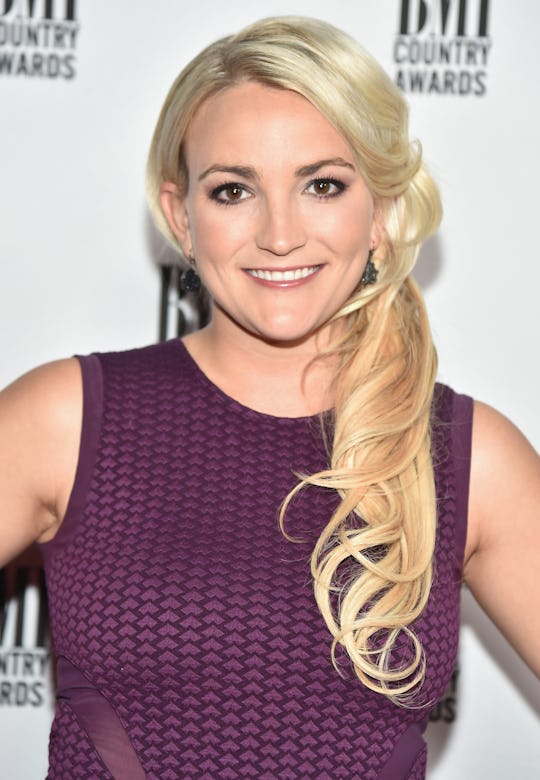 Michael Loccisano/Getty Images Entertainment/Getty Images
Jamie Lynn Spears' New Family Photo — Complete With Baby Ivey — Is As Sweet As It Gets
Watching Jamie Lynn Spears' journey from teen star to young mom has been exciting to watch unfold. In the early 2000s, Spears starred on Nickelodeon's All That and Zoey 101, but now she plays the role of "mom" to her two young daughters, 9-year-old Maddie and Ivey, whom she gave birth to a few months ago. Over the weekend, Spears shared a new family photo, complete with baby Ivey, and it'll instantly make your heart melt.
It's been such a long time since Spears' Nickelodeon days and her oldest daughter Maddie, whom she shares with her ex Casey Aldridge, is old enough to be watching the shows that she used to star in. But in those past nine years, Spears has been busy being a mom to Maddie and welcoming her most recent addition, Ivey Joan Watson, into her family on April 11 with her husband, Jamie Watson, according to People.
In the two months since giving birth, Spears hasn't posted too many photos of her daughter on social media. But on Sunday, Spears shared a super adorable photo of her family on Instagram, showing fans how big Ivey has gotten in the past few weeks — and boy, has she grown.
In the photo, Spears, Watson, and Ivey donned clothing supporting Maddie's softball team, according to People, because they were there to cheer on Maddie during one of her games over the weekend. "My #1's," Spears adorably captioned the photo. Seriously, it cannot get sweeter than this and it's clear that she's one proud mama.
While the family could not look happier, Ivey definitely stands out with her full head of dark, gorgeous hair and the fact that she looks so big. What is also nice is the fact that fans got to see Ivey in a casual environment for the first time. Up until now, Spears has only shared a few professional photographs of herself with her new baby girl to her Instagram account. So, it's great that people are being able to get a glimpse of Spears and her family dressed a bit more casually, just spending time together as a family.
Adjusting to being a mom of two has been a little difficult for Spears. In a recent interview with People, Spears revealed that breastfeeding Ivey (who apparently feeds "on-demand," as Spears told People) has gotten in the way of Maddie's softball games, which she had never experienced before. Spears told People:
Now I have another daughter who I have to go and run behind. So the breastfeeding takes on a new life because, when I'm sitting at my daughter's softball games, I'm like "Don't you dare!" So it's a different story, trying to find and plan when to breastfeed. I can't say, "Hey, I'm gonna go home and breastfeed"; it's not just about one baby, it's about two.
Spears told People that Ivey's breastfeeding schedule had once forced Spears to nurse Ivey in her car in the middle of the game (as to avoid the risk of embarrassing Maddie). "You gotta do what you gotta do!" Spears told People and she is so right.
All of that support for Maddie paid off. The same day that Spears posted the adorable photo of her family on Instagram, she revealed that Maddie's team came in second place at the end of the day, according to Entertainment Tonight. "Maddie turned her single into a triple by running hard on the other team's error," Spears captioned a video, posted on Instagram.
Jamie Lynn Spears certainly makes the title of "softball mom" look so glamorous, especially with baby Ivey in tow.