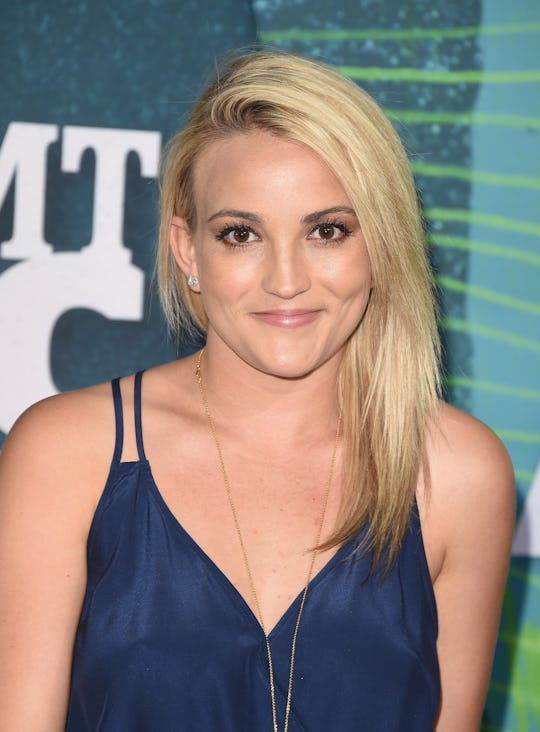 Jason Merritt/Getty Images Entertainment/Getty Images
Jamie Lynn Spears Got Real About The Demands Of Breastfeeding & Being A Mom Of 2
As any parent knows, newborns tend to keep their own schedules — especially when it comes to chow time. And that's something a certain celeb mom knows all too well as she's adjusting to life as a mom to two kiddos. In fact, in a new interview with People, Jamie Lynn Spears opened up about breastfeeding her 1-month-old baby girl "on demand" — basically wherever and whenever she needs — and it's something so many moms can relate to.
Spears is a mom to two precious daughters: 9-year-old Maddie Briann Aldridge and 1-month-old Ivey Joan Watson. The 27-year-old and husband Jamie Watson welcomed to baby Ivey on April 11 of this year, according to People, so she's still understandably getting used to life as a mom of two. And in a new interview with People, Spears revealed how she's adjusting to taking care of two little ones and spoke about having to basically be an "on demand" breastfeeding service for baby Ivey. And, honestly, all nursing moms out there can certainly relate to exactly what she's going through.
"It's definitely shifted the dynamic a little bit, because you go from having one child for 10 years, and that's your full focus," she told People of life after having a second daughter, adding, "I am breastfeeding, so she is pretty on-demand with that."
In fact, Spears even brought up a time when she had to go to her car to feed Ivey while Maddie was at an extracurricular activity because she was worried she might embarrass her older daughter. She told People:
I sat in the car at the ballpark and breastfed. I was like, "If one of Maddie's friends sees me, she's gonna be so livid." You gotta do what you gotta do!
And Spears is totally right about that. In fact, according to WebMD, most breastfed babies eat "between eight and 12 times a day." And, according to The Bump, that equates to a feeding about every two to four hours. Whew! Yeah, breastfeeding (and formula-feeding) a newborn is a lot of work and time-consuming, and when a baby is hungry... well as Spears said, "You gotta do what you gotta do!"
Although life with two kids is certainly an adjustment for any parent, it seems like Spears has had a good handle on the whole thing so far, even if her feeding times with her new baby girl aren't always the most convenient.
Spears told People in the same interview that while it's been an adjustment, "things are getting back to normal now," which is really nice to hear that things are going so well. You might remember that, before welcoming her second daughter, Spears had gone through some scary moments with her oldest child.
Just a little over a year ago, Spears' older daughter, Maddie, was in a pretty severe accident when she was riding an ATV and it veered into a nearby pond, submerging both Maddie and the ATV. According to a police report obtained by Entertainment Tonight, Maddie was "trapped and secured by the seatbelt and the ATV's safety netting" and emergency services arrived "within two minutes" and freed Maddie "from the cold waters."
Thankfully, Maddie has fully recovered from the accident that took place in February 2017 and seems to be loving her life as a big sister, but it's evident that the whole ordeal understandably shook up the family.
Whether she's breastfeeding her newborn in the middle of her other daughter's softball game or summoning the strength and courage to handle such a traumatic ordeal, there's no doubt that Spears is one strong mama.