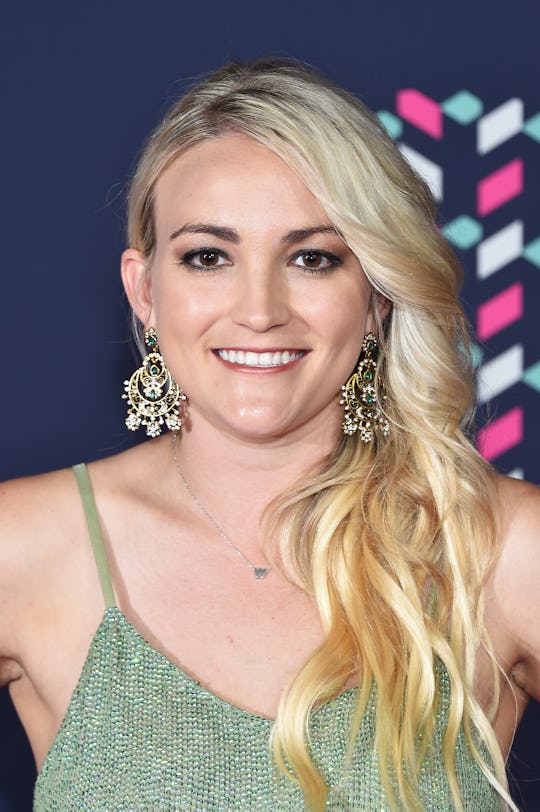 Mike Coppola/Getty Images Entertainment/Getty Images
Jamie Lynn Spears Posts New Photo Of Maddie
We can breathe a sigh of relief. Jamie Lynn Spears' daughter Maddie is doing better after her serious ATV accident. On Tuesday, Spears posted a photo of Maddie on Instagram, and it seems like little Maddie is steadily improving, and ready to celebrate Valentine's Day.
The photo shows 8-year-old Maddie holding up some Valentine's-themed bars of chocolate and grinning at the camera. In the accompanying caption, Spears wrote that, while Maddie wasn't yet able to go back to school, her doctors did say she was healthy enough to bring in some holiday treats for her classmates. "It was a great moment for us after everything that has happened," Spears wrote, continuing, "We are so thankful to celebrate Valentine's Day with the ones we love, and we don't take a second of it for granted."
This bit of Valentine's Day near-normalcy comes as a huge relief, since Maddie's accident was so serious. On Feb. 5, the 8-year-old was driving an ATV on the family's property in Louisiana when, in an attempt to avoid a drainage ditch, she overcorrected, and accidentally steered the vehicle into a pond. She was trapped underwater for around two minutes, held in the vehicle by her seatbelt and the safety netting, despite attempts from her family and other bystanders to free her. She remained underwater until rescue workers arrived. At one point, Maddie's condition was listed as "critical but stable."
So it's great to see her smiling so happily, ready to participate in a childhood ritual and give some Valentine's Day chocolate to her classmates. Her relatives have expressed their gratitude since Maddie was discharged from the hospital on Friday, Feb. 10. Maddie's famous aunt, Britney Spears, wrote on Instagram, "So grateful that Maddie was able to go home today... it's truly a miracle."
And it seems that, despite the very scary close call, Maddie has not suffered any lasting damage. In a statement released to People, the Children's Hospital in New Orleans, where she was receiving treatment, said, "It appears she has not suffered any neurological consequences from the accident."
Jamie Lynn Spears is most widely known for starring on the Nickelodeon show Zoey 101, which she was on when she famously got pregnant with Maddie at age 16. In recent years, she has been pursuing a music career and raising her daughter with husband of three years Jamie Watson (Maddie's father is Casey Aldridge, Spears' ex).
We're thrilled to see that Maddie is doing so well after her accident! Best wishes to her and the family over the rest of her recovery.