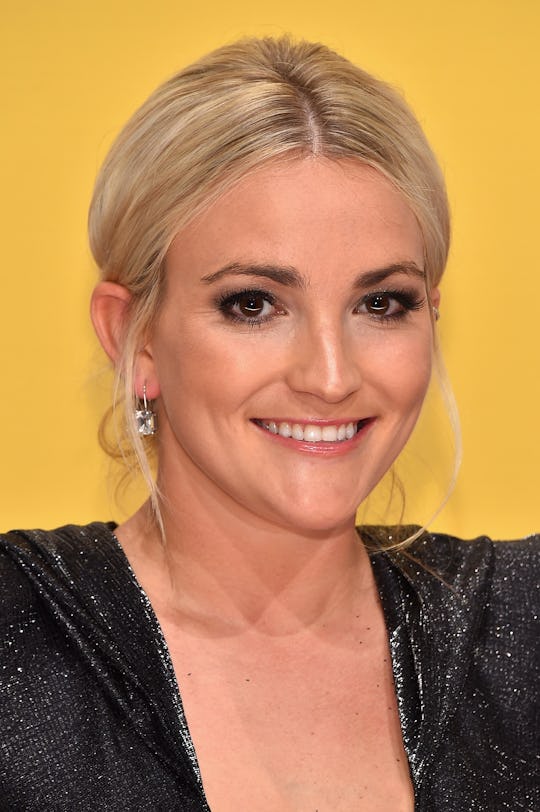 Michael Loccisano/Getty Images Entertainment/Getty Images
Jamie Lynn Spears' Instagram Post About Her Daughter's Horrifying Accident Will Wreck You
On this day last year, country music performer and former Nickelodeon star Jamie Lynn Spears faced every parent's worst nightmare: Her little girl was involved in a terrible accident that nearly took her life. After crashing an ATV into a pond and being submerged in water for several minutes, Spears' 8-year-old daughter, Maddie, was rescued by emergency responders and air-lifted to a hospital, where she remained unconscious for two days. Her prognosis at the time was uncertain — and family, friends, and fans alike hoped the little girl would pull through. Against the odds, the star's daughter did just that. Now, Jamie Lynn Spears has shared a photo of Maddie on the one-year "miracle anniversary" since the ATV accident. And chances are, it will make you hug your children a little tighter today.
It was in the midst of her Zoey 101 fame in 2007 that Spears become pregnant at age 16, reported E! News. Fans across the nation were shocked. But the world continued spinning. Understandably, the star stepped away from the spotlight for a while to focus on new motherhood. The former actress became relevant again in 2016 when she opened up about her teen pregnancy — and how far she's come since then — in a one-hour TLC Special, When the Lights Go Out, according to the publication. Spears once again returned to the spotlight following Maddie's widely-reported accident, as fans rallied around the family and prayed for the 8-year-old.
Fast-forward to February 2018. On Monday, Spears took to Instagram to share an old photo of Maddie recovering in the hospital after last year's horrific accident. The country singer expressed her gratitude, writing, "1 year Miracle Anniversary.... THANK YALL for your prayers during that time, and THANK YOU GOD for my beautiful family."
By Valentine's Day last year, Maddie wasn't yet cleared to return to school. However, as Hollywood Life reported, she was able to visit her classroom and share some holiday goodies.
"Maddie isn't quite ready to return to school, but her doctors did clear her to bring in her Valentine's Day treats to her class today," Spears wrote to her followers on Instagram. "It made her so happy to see her friends, and be able to give them such cute treats. It was a great moment for us after everything that has happened. We are so thankful to celebrate Valentine's Day with the ones we love, and we don't take a second of it for granted."
By Feb. 25, 2017, Maddie ended up making a full recovery. And Spears made sure to celebrate this fact with her Instagram followers, as reported by Us Weekly. "So blessed to say that my daughter has fully recovered, and returned to all her normal activities," Spears wrote. "Which means I had to as well, today is my first day back to work I want to thank everyone again for all their prayers...God truly blessed us with a miracle.. love y'all."
The two EMTs who pulled her out of the pond were even invited to Maddie's 9th birthday party in December, People reported. "The hardest milestone me and my family have ever faced was almost losing our beautiful Maddie, but thanks to God and the two angels in this picture we were able to celebrate Maddie turning 9 years old all together. This milestone became a true miracle, and we are forever grateful for that." How incredibly beautiful.
Just before the turn of the new year, on Christmas Eve, Spears announced that Maddie would soon become a big sister. That's because she and her husband, Jamie Watson, are expecting their first child together. As E! News reported, the mom-to-be announced the big news via Instagram, writing "Looks like we are starting off 2018 with another big milestone…sooo happy to announce that Maddie is FINALLY going to be a big sister," Spears wrote alongside a family photo. "2017 was filled with some of the biggest challenges of my life, as well as some of the biggest blessings, so I made a choice to lay low this year to focus on truly becoming my best self as a person and as an artist." She continued:
During that time, I continued working on my music and telling my story, which has created some of my most honest work and I [CAN'T] wait to share that with you all very soon. 2018 is going to be filled with many milestones both personally and professionally. I appreciate each of you for your patience and support through it­ all. 2018 has a lot coming.
Obviously, Spears and her family have been through so much in the past year. Although I imagine it's difficult to revisit the emotions on the day of Maddie's accident, I'd be willing to bet it's also healing in a way. To see how far Maddie has come in a year — when her family was this close to losing her — is bittersweet.
It serves as a reminder, too, to cherish the time we have with the people we love the most. Because tomorrow isn't guaranteed.
Check out Romper's new video series, Bearing The Motherload, where disagreeing parents from different sides of an issue sit down with a mediator and talk about how to support (and not judge) each other's parenting perspectives. New episodes air Mondays on Facebook.