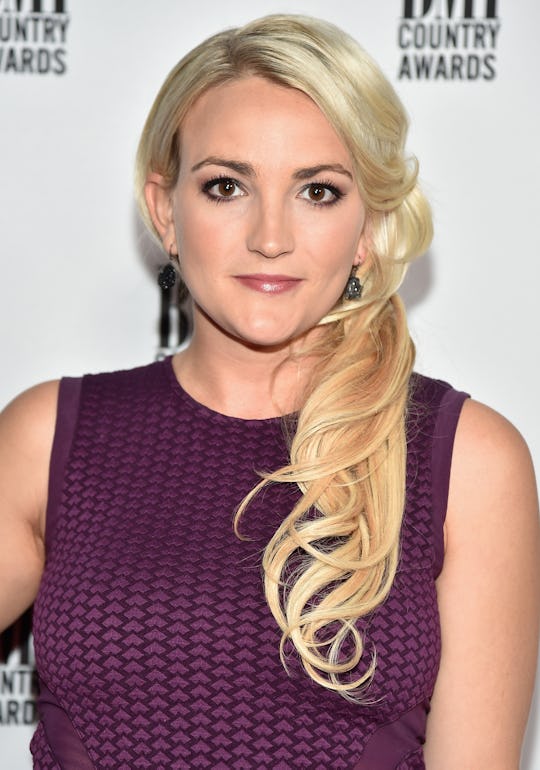 Michael Loccisano/Getty Images Entertainment/Getty Images
Jamie Lynn Spears Speaks Out On Maddie's Accident
Last month, singer and actress Jamie Lynn Spears had a terrifying experience when her daughter Maddie accidentally drove an ATV into a pond. She drowned for two minutes, putting her in critical condition, but thankfully she made a full recovery. Any mom who has gone through something this serious knows that there aren't strong enough words to describe how grateful Spears must be that her daughter survived. On Sunday night, Jamie Lynn Spears spoke out on Maddie's accident for the first time, and her sentiment is something all moms can related to.
Over the past month, Maddie has been steadily recovering. Spears has provided updates over social media as Maddie returned to normal activities, such as basketball practice.
But on Monday, Spears wrote on Instagram for the first time about her daughter's accident alongside a picture of her two daughters, calling the incident "a mother's worst nightmare":
A month ago, at this time, I was living a mothers/anyone's worst nightmare happening right infront of my eyes, helplessly....Fastforward- Today, we were able to celebrate the baptism of our sweet Kylie Blair.
Spears also wrote about her faith in God, and her belief that God allowed Maddie to fully recover.
I'm not one to preach, but we were shown God's grace, and we still feel undeserving of His mercy. I'll never stop thanking each of you for your prayers, because we recognize the miracle it created. We are beyond blessed, and we will NEVER forget y'all, and God's unbelievable mercy.
This isn't the first time Spears has shown how grateful she is for Maddie's recovery. Just days ago, Spears posted a picture on Instagram of herself, her mother Lynne Spears, and Maddie for Ash Wednesday, with the caption "God is Good."
The accident occurred after Maddie tried to avoid a ditch when driving the ATV on her parents' property in Kentwood, Louisiana, according to People. Instead, she drove the ATV into the pond. A statement from Tangipahoa Parish Sheriff Daniel Edwards indicated that Spears and her husband Jamie Watson, who is Maddie's stepfather, were nearby when the accident occurred, Us Weekly reported:
Within seconds the child's mother, stepfather and other family members reached the pond, dove in and attempted to rescue the child to no avail. The child was trapped and secured by the seatbelt and the ATV's safety netting. Within two minutes, Acadian Ambulance Services arrived and assisted in freeing the child from the cold waters.
Although the ATV Maddie drove is intended for children, it's recommended for children 10 and up, TMZ reported. Friends of Spears have spoken about the incident, but Spears has not said much since posting a photo of a helicopter on Instagram after Maddie was allowed to leave the hospital.
An unnamed friend of Spears told People that "It could have gone either way; they almost lost her. But God wasn't ready to take her back … She's getting stronger, and they have their Maddie back — and that's all that matters."
Maddie was unconscious for two days, and her family was worried about brain damage. "When she woke up, they said that it was obvious that she recognized them all," the friend told People. "Everybody was crying because it was such a miracle."
Some of the reactions to the incident were pretty harsh. Some blamed Spears for letting Maddie drive the ATV despite her age. But unfortunately, accidents happen. Parents can't control everything their kids do or everything that happens to their kids — no matter how much they try.