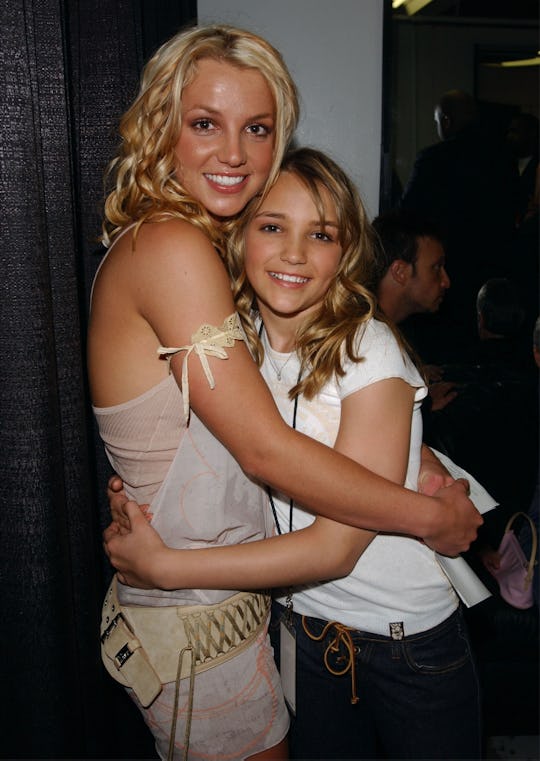 Frank Micelotta/Getty Images Entertainment/Getty Images
This Video Of Jamie Lynn Spears & Baby Ivey Dancing At "Auntie" Britney's Concert Is Too Cute
The Spears sisters have a bond that no amount of fame or fortune can shake, and becoming parents has only made them closer throughout the years. Just this week, Jamie Lynn Spears took baby Ivey to see her "Auntie" Britney in concert and it was an adorable family affair. Both Britney and Jamie Lynn have gone on to grow families of their own and the whole gang is thick as thieves.
On Monday, Jamie, her two daughters Ivey and Maddie, and her husband Jamie Watson headed out to see Britney in concert. As Jamie explained in the caption of her Instagram video from that night, it was "Ivey's first time seeing her Auntie Britney," according to Entertainment Tonight. In the video, Jamie is dancing along to her sister's hit song "Work B*tch," and holding Ivey who is wearing some adorable pink noise-canceling earmuffs.
Maddie, 10, was helping to keep Ivey warm throughout the night and taking videos of her parents cuddling her baby sister, as People reported. "Ivey had a blast," Jamie later wrote in her Instagram Story, as well as a message to her sister. "Looked up to her since the day I was born. Couple more people look up to her now also. But I was the first."
Maddie and Ivey, like Britney and Jamie, have a 10 year age gap between them. And following Ivey's birth, Jamie told People that she hoped her daughters have the same bond that she and Britney do:
Maddie was the first one to meet her after she was born. [She] was so peaceful the moment her sister held her. I have never felt more complete in my life. It's pure joy watching my girls fall in love. I'm hoping they have the same kind of relationship where it was like a second mom, almost. It's gonna be a special relationship. Sisters are something special — especially when there's that age gap there.
Because of their unique dynamic, watching Jamie become a mom was a very special experience for Britney. When Maddie was born in 2008, Britney told OK! magazine that it was somewhat surreal:
That was special, but it was also strange because she's always been the baby, and now the baby was having a baby. It was mind-boggling. I was shocked a little bit. But it was really cool, and she was happy. When she got to the hospital, we all thought it was going to be an all-day thing, and instead, the baby just sort of popped out. "OK, we're happy now!"
Sisterly bonds aren't the only ones that run strong in the Spears family, though. Jamie told Glamour in 2012 that the cousins are close, too:
For now, Maddie's biggest concern in life is when she gets to see her cousins next. She's always asking, "Why can't we have Preston and JJ here?" They're very close. They're like brothers and sister. They're so stinking cute. And Maddie loves her Aunt Britney's songs. She just loves the whole dress-up thing that goes with it. She loves dancing and singing and all of that. I definitely think music is in her genes.
The whole family spends a lot of time together from the look of things. In June, Jamie posted a shot of her and Britney surrounded by their families sitting on a couch — five kids in all. She captioned the photo "FAMILY," according to TODAY.
Seeing the sisters surrounded by their children makes it hard to remember Jamie as the star of Zoey 101, and Britney dressed in a schoolgirl's uniform singing pop songs for teenagers. They have certainly grown up throughout the years, but they haven't grown apart. Talk about #SisterGoals.