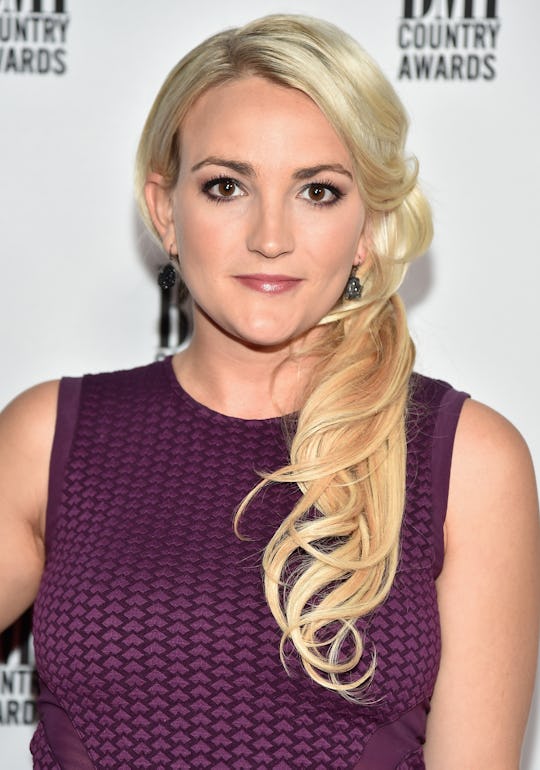 Michael Loccisano/Getty Images Entertainment/Getty Images
Jamie Lynn Spears Welcomes A Baby Girl & Her Name Is *So* Beautiful
Just three and a half months after announcing that she was expecting, Jamie Lynn Spears has welcomed her second child into the world on Thursday, April 12. The now mom of two took to Instagram to share the exciting news, posting a photo of the happy family in the hospital room and writing a simple caption: "Baby Ivey Joan Watson is here."
It was only Christmas Eve 2017 that Spears announced she was pregnant, with, of course, an adorable and perfect Instagram post. Alongside a photo of her, her 9-year-old daughter, Maddie, and husband Jamie Watson all holding hands and standing in a circle, Spears wrote, "Looks like we are starting off 2018 with another big milestone...sooo happy to announce that Maddie is FINALLY going to be a big sister."
In an exclusive statement to People, Spears explained the family's name choice for her second daughter. "We are beyond excited to welcome this beautiful baby girl to our family!" she told the publication. She went on to explain her new baby girl's name, "Her middle name, Joan, is to honor my Aunt Sandra, who passed away 10 years ago from ovarian cancer. She was the most graceful woman I've ever known."
The photo Spears shared of the new family of four shows how totally in love they all are with the latest addition.
Truly, the family seems thrilled with the new arrival, who People reports was "born in Covington, Louisiana, weighing 7 lbs., 8 oz. and measured 19½ inches in length." While the three family members have certainly been through a lot together, baby Ivey is sure to bring them all closer.
When Spears first announced that she was pregnant, she touched on the fact that the previous year had been a bit rocky. "2017 was filled with some of the biggest challenges of my life," she wrote in her post, continuing, "as well as some of the biggest blessings, so I made a choice to lay low this year to focus on truly becoming my best self as a person and as an artist." And truly, 2017 was definitely a rough year for the family. In February, Spears' daughter, Maddie was involved in a serious ATV accident and was in the hospital for several days after.
At the time, Spears didn't say much about what had happened, but Us Weekly obtained a copy of the sheriff's report, which read in part:
The ATV and child were instantly submerged in the water right before their eyes. Within seconds the child's mother, step-father and other family members reached the pond, dove in and attempted to rescue the child to no avail. The child was trapped and secured by the seatbelt and the ATV's safety netting.
Obviously, the family was pretty shaken up over the whole ordeal, but Maddie healed nicely and was home soon. Spears expressed her gratitude to the first responders who saved Maddie's life in multiple Instagram posts. Soon after Maddie left the hospital, Spears shared the above image of the helicopter along with the caption, "Thanks to the amazing first responders, and medical teams at University and Children's Hospital in New Orleans, LA, we are headed home with our baby girl as she continues to recover."
Additionally, on Maddie's birthday last year, Spears shared a photo of the 9-year-old with the two first responders who saved her life, writing, "they were able to celebrate her another year of her life with us this past weekend! Thank God for these amazing people, and thank you God for your amazing grace."
So now, with baby Ivey here, the family has so much to celebrate and be grateful for. Congrats Jamie! Ivey looks beautiful.