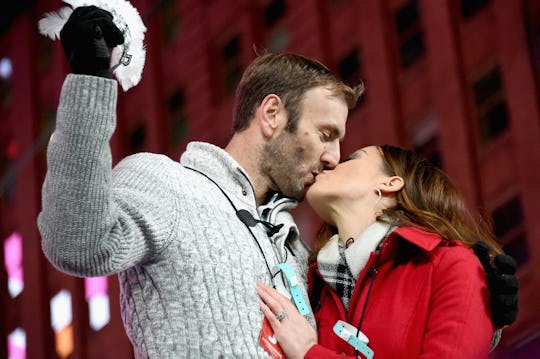 Mike Coppola/Getty Images Entertainment/Getty Images
Jamie Otis & Doug Hehner Are Expecting A Girl
Married At First Sight's Jamie Otis and Doug Hehner may not have initially appeared to be a match made in heaven (their TV wedding was so awkward), but these days, the couple has actually become one of the show's biggest success stories. It didn't take long after falling in love for Otis and Hehner to decide they were ready to start a family together, but in July 2016, they revealed that Otis had suffered a miscarriage with their son, Johnathan, four months into her pregnancy. They announced they were pregnant once again in January, and now it looks like Jamie Otis and Doug Hehner are expecting a girl this summer. The reality stars shared the happy news on Instagram Tuesday, according to Us Weekly, and though it certainly doesn't ease the pain of their earlier loss, it's clear that they cannot wait to welcome their rainbow baby.
Otis teased the couple's upcoming gender reveal in an Instagram post on April 21, and announced that, in addition to being 21 weeks pregnant, she and Hehner would be finding out the sex of their baby on TV, in an FYI network special called, well, Jamie & Doug's Baby Gender Reveal. After the show aired, Otis shared the exciting news on Instagram, posting a sweet photo of herself and Hahner outside with a bouquet of pink balloons. In the accompanying caption, Otis wrote,
We are so thankful for this sweet, sweet baby GIRL rolling around happily inside me. Her big brother, Johnathan, has been watching over her and keeping her safe. We love them both more than words could ever express.
Since finding each other on the show, Otis and Hehner have continued to open up their lives to their fans on social media, first sharing their journey as a couple, after meeting (and, uh, marrying) in 2014, and eventually, as parents-to-be. But after the devastating loss of their son, Otis chose to continue to be as open and upfront on social media as possible, inadvertently becoming a pretty amazing advocate against the stigma of pregnancy loss. In one particularly poignant post, Otis shared a heartbreaking and incredibly intimate photo of the couple cradling their tiny son following his delivery — both, she said, to honor her son's memory, as well as to let other women know that they shouldn't ever feel ashamed to remember the pregnancies and children that they've lost.
In the photo's caption, Otis wrote that she knew that it wasn't exactly an easy photo to look at, and that there would likely be some people who found it offensive. But she also reminded her followers that when you look past the taboo surrounding images of pregnancy loss, her son was really just "a harmless, helpless baby who deserves to be remembered, not hidden away."
Otis later explained to Entertainment Tonight that one thing people may not realize about losing a baby is that it can be really hard to move on without feeling like you are forgetting about your child. She said,
Since we lost our son I've felt so alone and sad. It's been one of the worst experiences in my life. My biggest fear is that my sweet little baby will just be forgotten and it will be like he never even existedI wanted to share Johnny so as he looks down from Heaven he'll know how loved, cherished, and important he still is to his mommy and daddy.
Even though Otis and Hehner are preparing to welcome their daughter into the world soon, it's pretty clear that their son's memory continues to be a huge part of their lives. In February, Otis explained to People that, since she and Hehner "started trying immediately" to get pregnant again, they actually found out they were expecting on the very same day that Otis would have been due to give birth to Johnathan. And while getting pregnant so soon after a loss might not feel right for everyone, for them, it was a huge blessing.
In the couple's rainbow-themed pregnancy announcement on Instagram back in January, the overjoyed couple held up an ultrasound photo of their baby-to-be, along with a sign that said, "handpicked by my brother in Heaven." And in the caption, Otis reiterated her love for her late son, writing that they "love him so much and are so happy to know he's looking down from Heaven taking care of his little sister/brother."
Getting pregnant again after losing a baby has to be one of the most bittersweet experiences — after all, as much as you are looking forward to welcoming your child, you can't help but be constantly reminded of what you went through. Being so open about their loss and their rainbow baby also might not exactly be for everyone, but by sharing their story as candidly as they have, they have no doubt helped countless other couples who have found themselves in the same position.