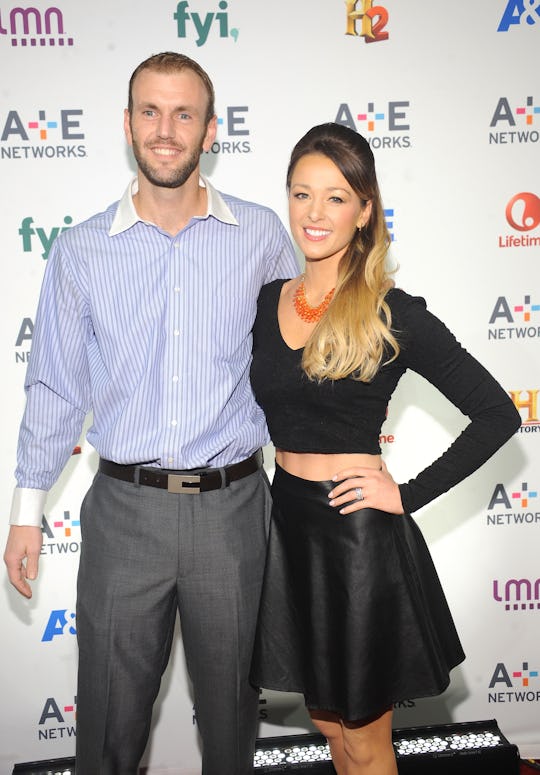 Brad Barket/Getty Images Entertainment/Getty Images
Jamie Otis' Instagram About Losing Her Baby Is Blunt & Deeply Personal
Bravely engaging in Pregnancy and Infant Loss Awareness Month this October, reality star and author Jamie Otis revealed a very personal story. Jamie Otis' Instagram about losing her baby features a picture of her with her husband and child, Johnathan Edward, who passed away at 17 weeks. In the post, Otis calls for openness, encouraging women who have gone through similar struggles to share their experiences with one another, saying: "I'll be the first in my circle. You be the first in yours."
Otis expanded on the loss of her baby in a blog post, detailing the various phases and steps that she's taken in the process of coming to terms with losing Johnny. She even admits the want to suppress her memories, as she's currently "just trying to stay above water." With the encouragement of her husband, Doug Hehner (who she met on "Married At First Sight"), Otis has felt strong enough and willing to talk through this heartbreaking circumstance.
The full caption of her Instagram post is below:
"October is pregnancy and infant loss awareness month. I can't sleep well tonight so I blogged about my sweet boy, Johnathan Edward. I realize there is a great stigma associated with sharing photos of your baby who was born too early and has already gone to heaven so I want to say sorry if this offends you. However, if there's one thing my husband has taught me it's this: "Don't live life trying NOT to offend anyone and trying to please everyone." I hope by me sharing my sweet boy, Johnny (as Doug and I call him), you'll realize that he's a harmless, helpless baby who deserves to be remembered, not hidden away because his image may offend someone. And if you've lost your baby early, please know that you're not alone. Unfortunately, 1 in 4 women are affected by this. Yet, no one talks about it. I hope this can change. I'll be the first in my circle. You be the first in yours. My prayers go out to everyone who has lost their sweet baby too early. Link to my blog & Johnny's photo in my bio. #miscarriageawareness#miscarriage #miscarriagesupport #mafs#marriedatfirstsight"
Other plans for remembering baby Johnny include planting a tree in his honor; designing a piece of jewelry to commemorate his short life; and keeping a special memory box filled with ultrasound photos and videos, along with small mementos from family and friends. In a follow-up Instagram, Otis writes:
"I hope to desensitize this topic so women who suffer from this horrible loss will feel safe & comfortable reaching out for love and support. No one should have to go through a pregnancy and/or infant loss alone."
Her willingness to share not just her thoughts but a physical image of the child that she lost can make all the difference. For women suffering a similar circumstance, hearing Otis' candid thoughts—the anger, sadness, and range of emotions in between—could encourage more openness, inclusivity, and understanding when discussing sensitive topics like early pregnancy loss.