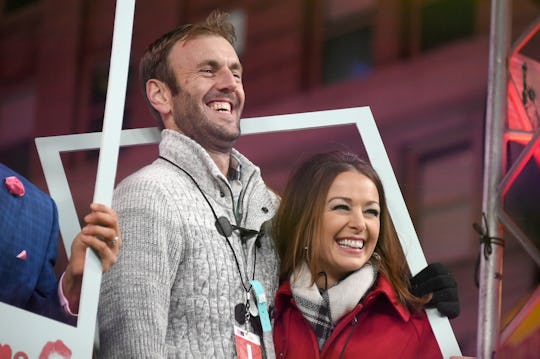 Mike Coppola/Getty Images Entertainment/Getty Images
Jamie Otis Is Having A Rainbow Baby
Bachelor alum and former Married at First Sight contestant Jamie Otis announced she was pregnant this week, only six months after a painful miscarriage. Otis, 30, told People that she had been "praying" and "not so patiently waiting" for the chance to become a parent again and that she felt "blessed" by this new "miracle." Otis and husband Doug Hehner lost their first son, Johnathan Edward, last July.
"We are feeling so blessed and truly thankful for this little miracle growing inside of me," Otis told People on Tuesday. "Being a mother has been a long awaited dream of mine. It goes without saying that Doug is going to be the best daddy ever. We cannot wait to meet Baby Hehner this coming summer!"
It's been a rough six months for the couple, who met on the set of Married at First Sight, have been together since March 2014. Prior to her turn on the series, Otis also appeared on Season 16 of The Bachelor and later on Bachelor Pad 3. In early July 2016, Otis and Hehner told People that they were expecting their first child in December; A litle over one week later, however, the couple announced that they had lost their baby, a boy.
In a heartbreaking blog post following her miscarriage, Otis explained just how traumatizing the ordeal had been. "To think that a week ago there was a little baby curled up inside me warm and comfy, safe from the world. He could hear me talking to him and my heart beating next to his. I would rub my belly and smile knowing he was growing inside me," she wrote. "But now he is gone. I just can't wrap my brain around it."
She added that the outpouring of love from her followers, friends, and family — many of whom had experienced similar issues — had helped her heal. "Doug, my husband, and I have been beyond blessed with an outpouring of support and love on social media," she continued. "So many people have been sharing their personal stories, sending their best and praying for us. It really is so heartwarming [...]."
In their announcement on Tuesday, the couple made sure to include mention of their first child. "We are PREGNANT!!! Our sweet Baby Hehner is due this August," Otis wrote in the caption of an Instagram post, which included a chalkboard sign that read, "Hand-picked for earth by my brother in heaven." She continued,
Of course I share so much more about our little #rainbowbaby with you all on my blog. [But] People put the sweetest tribute together for our first born son - Johnathan. We love him so much and are so happy to know he's looking down from Heaven taking care of his little sister/brother.
Ever the optimist, Otis made sure to add a humorous kicker. "Forgive me for my unbuttoned jeans," she joked, commenting on her attire in the Instagram photo. "I'm at that awkward stage where I don't quite fill out maternity jeans but I definitely don't fit in my regular clothes."
Congratulations to Otis and Hehner on their impending bundle of joy — they deserve all the love in the world.