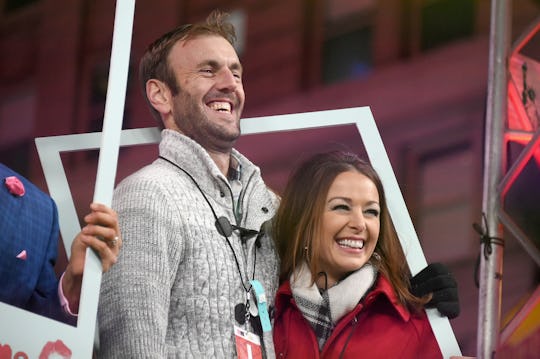 Mike Coppola/Getty Images Entertainment/Getty Images
Jamie Otis Is Loving Her Postpartum Body Days After Giving Birth
Sometimes our love of celebrities can't really be explained. Maybe it's their talent, or their political platforms, or just their overall aesthetic that makes them so likeable. But sometimes, a television star will do something that just makes the rest of the world go "yas," collectively, and then their popularity makes all the more sense. Enter former Bachelor and Married at First Sight star Jamie Otis. Yes, just days after giving birth, Jamie Otis' post about her postpartum body will (once again) leave you shouting "yas girl!" while scrolling your Instagram feed.
The adorable, kind, smart, and powerful star of TLC's Married at First Sight initially won over the hearts of Americans back in 2012 on Season 16 of The Bachelor. Since then, she has gone on to star on Married at First Sight where she married husband Doug Hehner in 2014. And while the two may have gotten their start on a reality show, they've been through hell and back together, and are about as strong of a couple as there is.
After losing their first child together, a son they named Jonathon Edward, while Otis was in her fourth month of pregnancy, the pair welcomed their daughter, Henley Grace, last week. Since then, Otis has shared adorable updates on their bigger family, but her latest post is especially empowering.
Posing in her kitchen, Otis captioned the photo of herself looking fierce, saying:
I love every bit of my postpartum bod. It's truly amazing how my body helped create & carry an 8 lb 2 oz baby .... I'm feelin' like I can conquer the WORLD after pushing her out. Women are SO much stronger than we give ourselves credit for.
And seriously, Otis nails it. Women are already held to such impossibly high standards, that a woman who has just given birth shouldn't have anything else to worry about, especially "getting her body back." And clearly, motherhood is suiting Otis just fine. She is totally self-assured and confident, and reminding women everywhere that their bodies are incredible — no matter what they look like.
And what makes Otis' new role as a mother even more special? She found out she was pregnant with Henley on Jonathon's due date last December. "I'm not usually superstitious, but I definitely think Henley was a gift from her big brother," she told People. And superstition or not, Otis is handling motherhood like a total boss, and her Instagram is something all women should see.