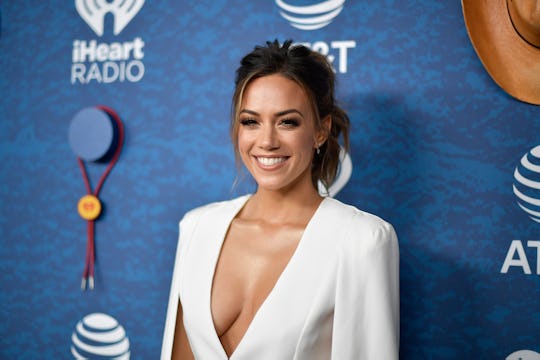 Matt Winkelmeyer/Getty Images Entertainment/Getty Images
Jana Kramer Has Chosen A Name For Her Unborn Baby Boy
Since sharing the news of her pregnancy, Jana Kramer has been giving fans regular updates on how she and her family are preparing for the arrival of their newest addition. Most recently, Kramer said that she chose a name for her baby and shared a hint about what it might be. While she isn't making the name public knowledge just yet, there is plenty that Kramer has said about her coming little to keep fans on their toes.
Kramer, a country singer and One Tree Hill star, announced her pregnancy with husband Mike Caussin in late June. Her "rainbow baby," as she has called the child, comes in the wake of several devastating miscarriages. The two already share one child together, Jolie Rae Caussin, who is almost three.
About a month after she announced her pregnancy, Kramer provided fans with an update via her personal iHeartRadio podcast Whine Down With Jana Kramer and shared the sex of the baby. "It's a boy!" she said, going on to explain that she and her husband were expecting a girl. The couple hosted a gender reveal party prior to the public announcement, according to Us Weekly, where they learned they were going to have a son after breaking open a blue confetti filled piñata. And now, Kramer has given some insight into the name they chose for their little boy.
"It goes really good with Jolie," she told People at the Carter's and OshKosh B'gosh fall fashion show in New York City on Tuesday. But what exactly does that mean? Is it a name that rhymes with Jolie, or perhaps begins with a "J" as well? Fans will just have to wait and see, because Kramer wouldn't divulge anything beyond that.
While she hasn't explicitly stated the baby's name, she has opened up about how the pregnancy is impacting her family. She told People in the same interview that the baby has "saved her marriage," following her husband's infidelity two years ago that led to a brief separation. "Babies and having other kids don't save a marriage but for us, this baby truly has been a savior for us in a way that we've really done our work and gotten dirty," she said. Kramer went on to explain that the two of them are committed to making it work for their family:
We're bringing a child into this world [so] we have to be there for each other and continue to do our own recovery work for him and me and be in a place where we're bringing [our son] into the best environment possible.
Kramer and Caussin aren't the only ones who are gearing up for a new family member. Jolie Rae is preparing for life as a big sister as the news of her coming little brother "sinks in," according to Kramer. The mom-to-be said that Jolie didn't really understand at first. according to E! News:
She saw the confetti and stuff, but I don't think it really kicked in until she went to the 3-D ultrasound with us. Now that my belly popped, she's finally getting it. Like, there's a baby in my belly, and I'm like, 'It's your brother!' And she's like, 'Yay!' … I can tell that she is very excited for the boy.
Jolie's mom and dad are making sure to involve her in the preparations for the new baby, according to People, in an attempt to keep her from feeling left out:
We're gonna get her some presents and we're reading things on how to introduce her to the baby and to try to do it the right way so that she doesn't feel like she's the odd man out.
All in all, it sounds like Kramer and her family are over the moon about the coming addition to the family — whatever his name may be.