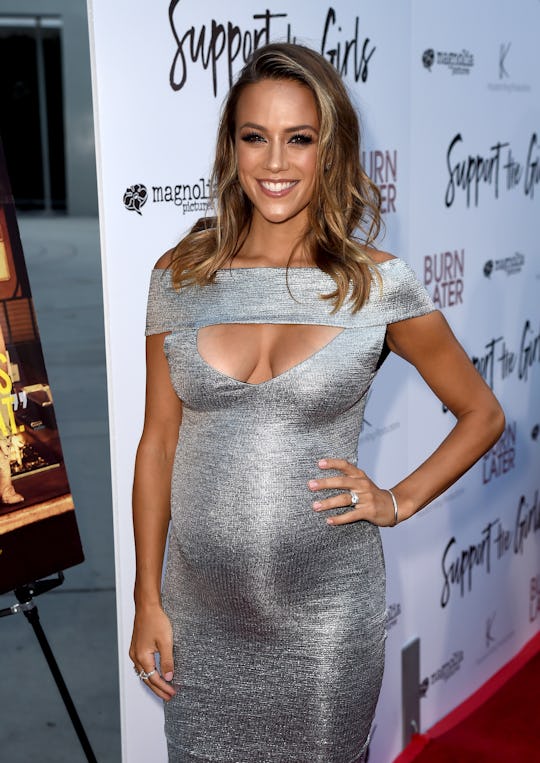 Kevin Winter/Getty Images Entertainment/Getty Images
Jana Kramer Dishes On Her Weird Pregnancy Cravings, & Moms Are All Like, "Same"
They come out of nowhere and suddenly, your every thought is consumed by fulfilling a specific, and very strong desire. It could be the middle of the night. There could be blizzard-like conditions outside. You could live more than an hour away from a certain restaurant. But nevertheless, the urge for a pint of New York Super Fudge Chunk Ben & Jerry's ice cream at 1 a.m. persists. Because from experience, pregnancy cravings are all too real. Recently, Jana Kramer dished on her weird pregnancy cravings. And I'm sure plenty of women can relate.
While attending the iHeart Radio Music Festival in Las Vegas, People caught up with Kramer, where she shared her recent pregnancy cravings. "I just want really, really cold things, so like cold salads and fresh-squeezed orange juice," she told People on Friday. "I feel great." You know, I can totally relate to this. Those of us who have been "lucky" enough to be pregnant all summer long probably remember how oppressive the heat can be when you're already carrying around an internal heater. From experience, cold foods are definitely highly appealing when you're in the third trimester and it's 90-plus degrees outside.
Kramer also shared that she and her husband, Mike Caussin, are gradually getting everything prepared at home in order to welcome their baby boy. "We have a few more things to do. But we're almost there, we're super close," she told People. "We just have to move a few things around, wash some clothes, pack some things and we're there."
In June, Kramer revealed she was pregnant with her rainbow baby via Instagram, E! Online reported. (Kramer and Caussin are already parents to a 2-year-old daughter, Jolie Rae.) "We have a rainbow baby on the way & couldn't be more excited!" she captioned her Instagram post. "Jolie is going to be a big sister & we're becoming a family of 4!"
The news came seven months after the country music singer shared that she had suffered a miscarriage in December 2017. In an Instagram post, Kramer shared a photo of herself holding an ultrasound image, alongside a heartfelt message, according to Today. "1-3. Today I am 1-3," Kramer wrote. "This unfortunately isn't my first loss. When I first found out I was pregnant I wanted to shout it from the rooftop but I know for reasons like this we have to wait. So because we don't tell many, we have to suffer silently...and suffering silently was my thing in the past, but it's not now." She continued:
For the women out there who have miscarried in the past and need support and a place to grieve their little one lost or to those in the thick of it like me who are currently grieving and in pain, let us all be there for each other. You don't need to feel alone and maybe that's me talking to myself but if you need a place to share, I'm here for you.
Now that she only has about two months to go, I would imagine Kramer is more than ready to meet her rainbow baby. And if she's anything like I was during the third trimester, she's probably highly uncomfortable and possibly totally over those cravings by now.
Although plenty of women claim they've never experienced them, I know the struggle of pregnancy cravings all too well — and it's been different with each of my four pregnancies. With my first child, Cheez-Its were my go-to, especially during the first trimester. Baby number two, on the other hand, seemed to love Pringles. During my third pregnancy, I had more of a sweet tooth. (So many pints of Ben & Jerry's ice cream ...) And this time around: All things spicy. One thing that's remained constant through all of my pregnancy experiences? Taco Bell.
So yeah. Jana Kramer's pregnancy cravings are decidedly more healthy than mine have ever been. But that's the thing: The cravings choose us, not the other way around — and moms-to-be are practically powerless when they strike. Because let's face it: Few things are worse than an unfulfilled pregnancy craving.