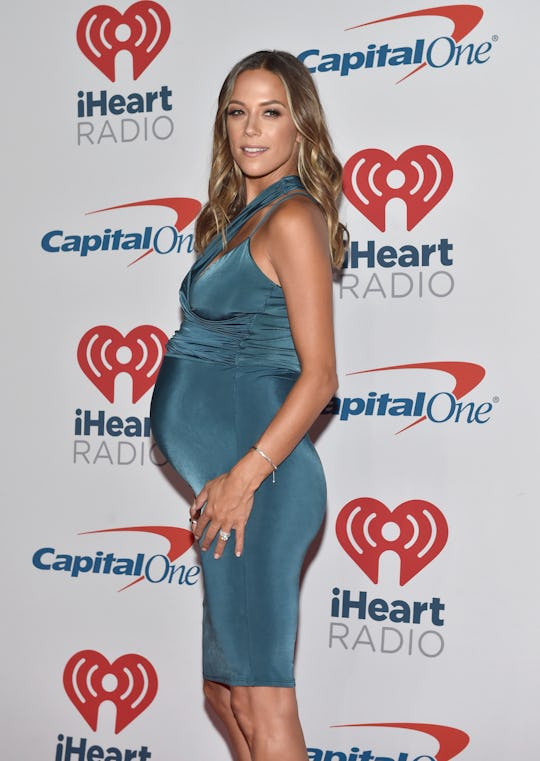 David Becker/Getty Images Entertainment/Getty Images
Jana Kramer Is Ready To Share Her Baby's Birth In A Very Modern Way
Just when you think celebrities couldn't possibly share more about their pregnancies and motherhood journeys, someone goes and offers their fans an even more up-close-and-personal perspective. Whether it's live-tweeting while having contractions, or even having a live video feed during labor and delivery, it seems as if stars and are constantly pushing the boundaries. And in an interesting turn of events, Jana Kramer is planning to do a live podcast while giving birth.
The country singer/actress is already a mom to 2-year-old daughter, Jolie Rae, whom she shares with husband Mike Caussin. Currently, though, Kramer, 34, is pregnant with baby number two — a boy — and is due in November. And apparently, she is planning to do a live episode of her podcast, Whine Down with Jana Kramer, while actively delivering her son. "My husband and I have always been an open book, so why not open the door to our delivery room?" she told Us Weekly.
Of course, this might not come as too much of a surprise for Kramer's fans and social media followers. Because when she says she's been an "open book," she means it. Back in 2016, Kramer opened up about her husband's repeated infidelity with multiple women. Although the pair was separated for a period of time, their relationship seems to have been in good standing since the retired football player received treatment for sex addiction. Still, it's been a tough journey toward making their dream for a second child a reality.
In December, the singer/actress revealed heartbreaking news to her Instagram followers, according to People: She had suffered a miscarriage. "1-3," Kramer wrote, along with a photo of herself holding an ultrasound photo. "Today I am 1-3 ... This unfortunately isn't my first loss. When I first found out I was pregnant I wanted to shout it from the rooftop but I know for reasons like this we have to wait. So because we don't tell many, we have to suffer silently...and suffering silently was my thing in the past, but it's not now."
She continued:
For the women out there who have miscarried in the past and need support and a place to grieve their little one lost or to those in the thick of it like me who are currently grieving and in pain, let us all be there for each other.
In June, Kramer revealed much happier news to her Instagram followers: She and Caussin were expecting their rainbow baby, E! Online reported. "We have a rainbow baby on the way & couldn't be more excited!" she captioned the announcement. "Jolie is going to be a big sister & we're becoming a family of 4!"
Because Kramer's fans have followed her journey through both the highs and the lows, it makes sense that she'd be willing to give them an intimate "glimpse" into her childbirth experience. If you ask me, a live podcast seems like the perfect way to invite followers into the process — without resorting to a full-out live video stream. That way, she won't have to worry about what she looks like, or if the camera accidentally got a shot of her lady bits, while also trying to push a small human out of her body.
Still, though. I know I would be incredibly nervous about people listening in live during such a vulnerable time — during which I could be swearing, screaming, or crying. Or all three at the same time. Plus, what if (god forbid) something goes wrong? I suppose Kramer is the one who can ultimately make the call to end the live broadcast at any time.
Whether or not Jana Kramer ends up following through with her plan for doing a live podcast while she's giving birth, I'm sure she can't wait to meet her rainbow baby. And with a November due date, the countdown is officially on!