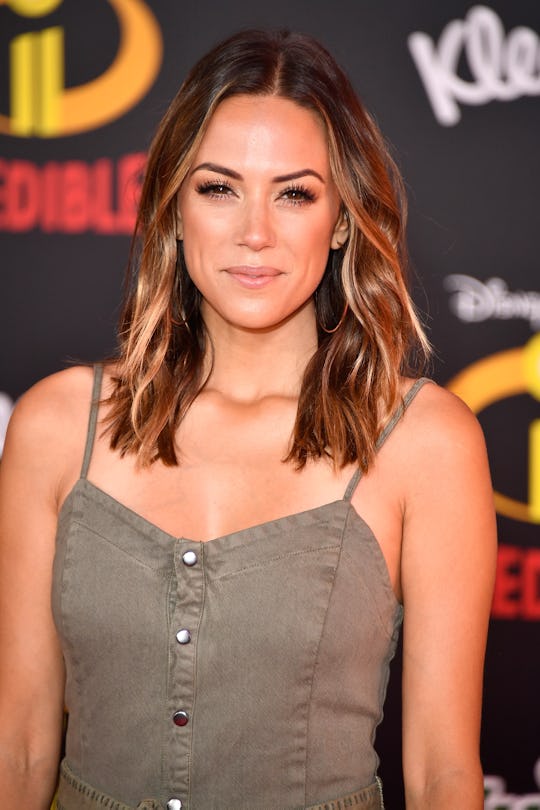 Frazer Harrison/Getty Images Entertainment/Getty Images
Jana Kramer's Recent Vlog Highlights The Loneliness Of Miscarrying
A friend of mine who got pregnant with her "rainbow baby" after suffering a miscarriage described that pregnancy as the sunshine after a storm of suffering. But that sunshine doesn't erase the pain of loss. In a recent video, Jana Kramer opened up about her miscarriage prior to her current pregnancy and explained how important it is to talk about the loss of a child. There is a certain stigma around miscarriage that leads many women to remain quiet about their struggles and not seek help; that needs to change.
Kramer announced her pregnancy in an emotional Instagram post on June 25, sharing her joy with her followers. "Surprise! We have a rainbow baby on the way and couldn't be more excited! Jolie is going to be a big sister & we're becoming a family of 4!" she captioned the photo showing herself, her husband, former NFL tight-end Michael Caussin, and their 2-year-old daughter Jolie. The baby is due in November, according to Entertainment Tonight.
But the road to her second child has not been without bumps. While her coming child was conceived naturally, Kramer underwent four failed in vitro fertilization attempts, as People reported. In a video posted to her vlog, Kramer explained the many struggles that she endured before being blessed with her "rainbow baby."
Kramer explains the video that not only her current pregnancy, but her pregnancy with Jolie followed miscarriages:
When Mike and I first got together, we were having trouble conceiving, so I went to the doctors and started the process of IVF. We had only three embryos and we implanted the two embryos. I ended up getting pregnant but we had a very, very early chemical loss.
It wasn't long after that loss that she was pregnant with Jolie and delivered her healthy baby girl on January 31, 3016 in Nashville, according to People. As Kramer explained in her vlog, she conceived naturally four or five months later, "It was a lot sooner than I wanted to but I was still really, really happy. But I ended up losing that baby around seven and a half weeks," she said. Another painful miscarriage followed, and she lost her last embryo — a boy — that she had for IVF.
After all of these highs and lows, Kramer found out that she was pregnant yet again. This, her current pregnancy, was also conceived naturally, she said in the video:
Just like Jolie, the next pregnancy, I got pregnant again [naturally]. I don't know if my system needed some of the IVF medicines to hold my pregnancy, I'm not really sure. But we are pregnant now. I am almost 19 weeks.
By sharing her story, Kramer shed light on the painful experience that so many women keep quiet. A 2013 survey conducted by researchers at Montefiore Medical Center and the Albert Einstein College of Medicine of Yeshiva University found that the majority of Americans — 65 percent to be exact — "inaccurately believe miscarriage is rare and misunderstand its causes," which has created an "often isolating and guilt-ridden experience for those who experience it," according to Science Daily. This misunderstanding is something that Kramer's video combats. As she said:
That's the problem with miscarriage... it's not talked about and it should be. It's sad because when you find out you're pregnant it's so exciting and you want to shout it and tell everybody but you don't because of stuff like this. Instead, you're left alone with this feeling of being so alone.
Fortunately, Kramer's story is one that ends with happy news. Her video also explains that she is now almost 19 weeks pregnant. She considers herself "extremely fortunate," despite the struggles that she has endured. And she ends her video with a call to action for other women like her, saying:
I know there are still so many women out there who are still struggling to conceive their first child. I have felt a piece of your pain but I do want you to know there are a lot of women out there who have. I want us women to rally around each other and support each other. It's hard feeling all these thoughts alone. You're not alone and we're all here for you.
Kramer's story is an inspiration and a powerful testament to the love and courage of a mother.