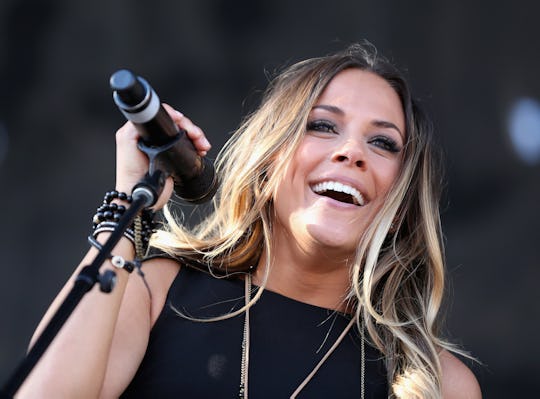 Isaac Brekken/Getty Images Entertainment/Getty Images
Jana Kramer Reveals She Had A Miscarriage & Her Heartbreaking Message Is So Important
Pregnancy loss is something that isn't talked about nearly enough. Whether it's an early miscarriage, a stillbirth or something in-between, the weight of this type of loss can feel unbearable. And during a time when would-be parents may need support the most, unfortunately, many end up grieving in silence. Celebrities have used their influence to bring more awareness to pregnancy loss in recent years, and their voices have helped provide a stage for an important conversation. Most recently, Jana Kremer has revealed she had a miscarriage — and her heartbreaking message shows others they're not alone.
People reports the country singer/actress is already a mother to a 22-month-old daughter, Jolie Rae. However, on Saturday, the 34-year-old revealed tragic news to her Instagram followers. "1-3," Kramer wrote, alongside a photo of herself holding a sonogram. "Today I am 1-3." Kramer went on to explain that she wrestled with her decision to share the news. Ultimately, though, she opted to share her experience because she didn't want to be part of what she described as the "silent struggle." The grieving mother wrote, "I don't want I'm sorry or sympathy. I just don't want to feel alone. And I know I'm not." She continued:
This unfortunately isn't my first loss. When I first found out I was pregnant I wanted to shout it from the rooftop but I know for reasons like this we have to wait. So because we don't tell many, we have to suffer silently...and suffering silently was my thing in the past, but it's not now.
Kramer then addressed her followers, inviting women who have miscarried in the past or who are currently experiencing a similar loss to shared their stories and be there for each other. She wrote:
You don't need to feel alone and maybe that's me talking to myself but if you need a place to share, I'm here for you...and all of us are (and guys too. We sometimes silence your voice because you feel bad to express how it's made u feel so let this be a safe place for you too). And because I don't have all the words to say because I'm knee deep in crying and trying to listen to God, my girlfriend @alittlebitfancy says them for me.
Kramer also shared that her friend — Kristen Brust of the blog, A Little Bit Fancy, according to Us Weekly — has helped her immensely during this difficult time. The One Tree Hill alum encouraged those who are currently struggling with miscarriage to read her friend's healing words. Finally, the grieving mama finished up her Instagram post with a powerful hashtag, #yourenotalone.
Although Kramer indicated she wasn't looking for condolences, her Instagram followers quickly stepped up and offered words of comfort and understanding. "So sorry," one person wrote. "Unfortunately, we know that feeling all too well. Not a day goes by when we don't think about our little angels" Another follower shared her story, writing, " I'm so sorry! You are such an inspiration for so many by sharing. I lost my second child at 10 weeks. As crazy as it seems I still cherish those 10 weeks and would not choose to erase. That was and still is my child and I know in my heart one day i will be able to have my baby in my arms, one day I am sure you will to[sic], sending prayers your way." Yet another person commented, "Thank you for sharing. So many feel this is something to be quiet about. I had three myself before ending up with 3 crazy boys!"
Having lost a pregnancy between my first and second children, I know exactly what Kramer is going through right now. Unlike Kramer, though, I was not so open about my loss. I remember texting my parents that I was at the ER after having the miscarriage. My husband and I hadn't even told anyone about the pregnancy yet, and this is how both sets of our parents found out. Our immediate family members and my best friend were the only people who knew about the miscarriage for a long time.
For three months or so following that first-trimester loss, life was pretty much a blur. I simply went through the motions and eventually emerged into my new normal. The thing is, everyone grieves differently. I'm not sure if announcing my loss would have helped me. Still, Kramer sharing her experience is important. Because although some people might prefer to grieve alone, Kramer's actions help give a voice to others, like herself, who might feel reluctant to share — but desperately need to. Thank you, Jana, for raising awareness for this still-taboo subject that continues to affect so many families.