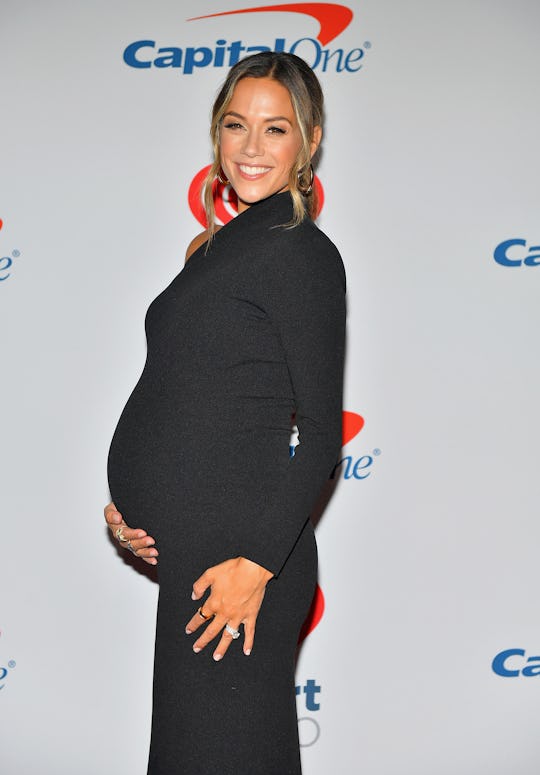 Sam Wasson/Getty Images Entertainment/Getty Images
Jana Kramer's Baby Name For Her Son Has The Sweetest Meaning
Country singer and One Tree Hill alumna Jana Kramer has been vocal about her pregnancy, sharing that the coming bundle of joy is, in fact, a boy, and that it's a rainbow baby, coming on the heels of multiple miscarriages. But one thing she hadn't done more than hint about after giving birth is the baby's name.
"It goes really good with Jolie," Kramer told People magazine in August, referring to the fact that the baby's moniker will have to sound like a good match alongside her 2-year-old daughter Jolie Rae's own. Kramer and her husband, former NFL tight end Mike Caussin shared the exciting news on Instagram back in summer, and now fans are finally getting to the end of the mystery.
Kramer gave birth to baby Jace Joseph Caussin on Thursday, Nov. 29, according to Us Weekly, posting an emotional shot of herself, baby Jace, and Caussin on Instagram.
"Welcome to the world, Jace Joseph Caussin," the new mom captioned the shot. "Our hearts are so full. Thank you to all of our friends and family... and all of you who have supported Mike and I, and our growing family."
And while Kramer is surely reveling in the happy news of the birth of her second child, she also revealed to People that it's been a long couple years in her marriage to get where she is now.
"Babies and having other kids don't save a marriage but for us, this baby truly has been a savior for us in a way that we've really done our work and gotten dirty," she told the magazine, in reference to Caussin's admission that he cheated on her after Jolie was born, eventually seeking treatment and spurring the couple to work through things with a counselor.
"We have to be there for each other and continue to do our own recovery work for him and me and be in a place where we're bringing [our son] into the best environment possible," explained the singer, who has shared intimate personal details of her life and marriage on her iHeart Radio podcast, Whine Down with Jana Kramer.
The couple has also endured infertility and Kramer opened up about what her experience with "multiple" miscarriages and IVF treatments was like on her podcast, Us Weekly reported, as well as the fact that this pregnancy felt like a "miracle."
But, as it turns out, Kramer and Caussin chose Jace's name as a tribute to all the family has endured.
"Jace. My sweet baby boy. When I found out Jace meant 'healing' I knew right then that was his name," People reported Kramer captioned another new shot of her little one.
It's clear that Kramer is smitten with her son, but the new parents are also working hard to make it clear to Jolie that she's not yesterday's news now that there's a new baby around.
On Sunday, Dec. 2, after Kramer and Caussin had taken Jace home from the hospital, Kramer posted a video of Jolie in a "princess dress" to her Instagram Story while Jolie's grandma did her hair, in addition to plenty of videos of baby Jace, proving this new mama is more than happy to continue to share all of these special moments with fans.
Though likely still in the new baby bubble, this sweet family will have a lot to celebrate this holiday season.
This first-time mom wants to have a home birth, but is she ready? Watch how a doula supports a military mom who's determined to have a home birth in Episode One of Romper's Doula Diaries, Season Two, below. Visit Bustle Digital Group's YouTube page for the next three episodes, launching every Monday starting November 26.