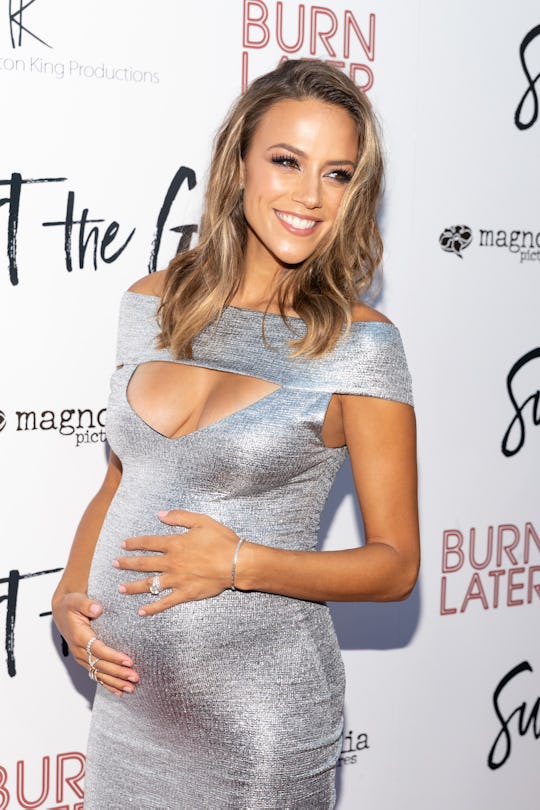 Christopher Polk/Getty Images Entertainment/Getty Images
Jana Kramer's Last Family Photo Before Giving Birth Is So Touching
Jana Kramer (along with her fans) have waited months for the country music star and podcast host to give birth. After announcing her pregnancy earlier this summer, people have been waiting for her to have her second child any day now. But before she can do that, Kramer is soaking up every last second with her family of three — and this is why Jana Kramer's "last family photo" before she gives birth is so touching.
Kramer announced in June that she was expecting her second child, according to People, and that baby will be here any day now. At the time of her announcement, Kramer told People that her baby would be due in November, which would make her 2-year-old daughter, Jolie, a big sister.
Given that there are just five days left in the November, Kramer is set to give birth within a matter of days (or maybe even hours) — and that means she is soaking up as much time with Jolie and her husband, Mike Caussin, as possible. In a super cute photo, posted to Kramer's Instagram account over the weekend, Kramer can be seen cuddling with Jolie and Mike, enjoying their time together before a screaming baby is thrown into the mix. You can tell, based on their tender expressions in the photo, that they are fully embracing this wonderful yet emotional time before the new baby arrives.
"Soaking in the last weekend as a family of three and cherishing every second," Kramer wrote in the caption of the photo.
Kramer is so right for taking it easy and spending time with her firstborn daughter before her second child arrives. When parents find out they're expecting their second child, they should do everything to prepare their firstborn for the baby's birth, according to TODAY, but also spend as much one on one time with their firstborn as possible. And based on the quality time that Kramer and Caussin are spending with Jolie, you can tell that they're trying to do just that.
Kramer has been preparing for this moment for a while — in June, the singer opened up to People about her struggles getting pregnant, which involved her having a miscarriage — and her honesty about this had the ability to help so many women. Kramer said, according to People:
We lost in October and then we did an IVF cycle and we lost in February, so I want to be able to be like, "Hey I know it's hard but just try to have some hope."
Kramer's desire to never give up on hope has been inspiring. During an episode of The Doctors earlier this month, Kramer said, according to Self, that her miscarriages left her in a state of despair and her pregnancy brought her back to life. Kramer said, according to Self:
I just didn't want to talk to anybody and just cried it out. For me, at that moment, I needed to start reflecting on what the next step is. I was starting to focus really hard on my career and then the month later is when I got pregnant.
And now that Kramer is just about ready to give birth, her excitement about her pregnancy has not died down — and she is so ready to share this new baby with her followers. In October, the Whine Down podcast host told Us Weekly that she wanted to do a live podcast from the delivery room as she gave birth to her new bundle of joy. Yes, you read that right.
"My husband and I have always been an open book, so why not open the door to the delivery room?" Kramer asked Us Weekly.
If that were to happen, fans could be hearing all of the nitty gritty details from Kramer giving birth within a matter of days — which is so exciting. But in the meantime, Kramer is enjoying as much time with her family of three as possible — and you really can't blame her for that.
Season 2 of Doula Diaries shares the stories of fearless doulas helping their clients take control of their births and make tough choices that feel right to them. Watch the first episode of the new season Monday, November 26th.