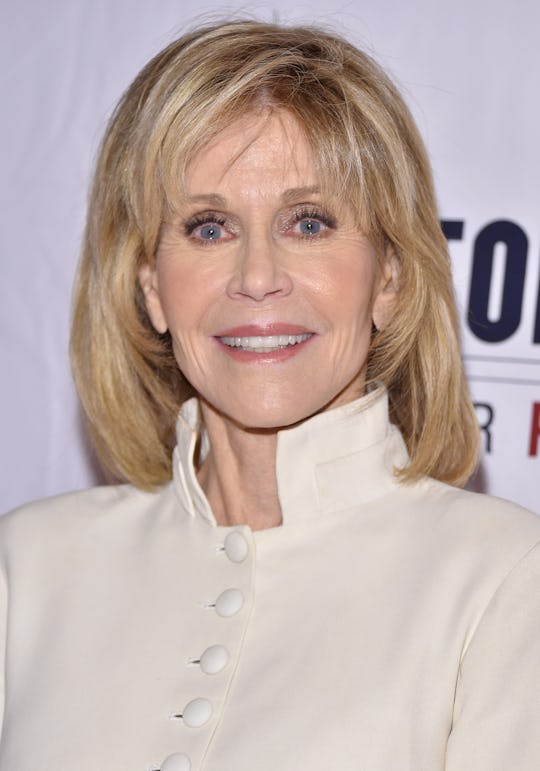 Michael Loccisano/Getty Images Entertainment/Getty Images
Jane Fonda Is Going To Standing Rock, & It's A Huge Statement
The ongoing news stories coming from the protests of the Dakota Access Pipeline at the Standing Rock Sioux Reservation in Cannon Ball, North Dakota, continue to be horrific and heartbreaking, but there's something particularly awful about knowing that hundreds of protesters who have been on the receiving end of water cannons, rubber bullets, and pepper spray will still be standing out in the cold fighting for their rights while the rest of the country sits down for Thanksgiving dinner. According to Paper, actress and activist Jane Fonda is going to Standing Rock Thursday to serve "a Wopila Feast" to the gathered protesters, as part of a "Water Protectors Community Appreciation Dinner," organized by activist, author, and former owner of Philadelphia's White Dog Cafe, Judy Wicks. In addition to helping serve dinner to the protesters, Fonda will also be donating five "butchered bison" and "four Mongolian yurts" for the Water Protectors to use as shelter.
According to Civil Eats, Fonda will be join a group of approximately 50 others who are heading to Standing Rock for the dinner, including a number of chefs, butchers and caterers. They will serve "30 pasture-raised turkeys," roasted on a pedal-powered spit, while other dishes will include "Native ingredients like squash, wild rice, sweet potatoes, ground corn, and cranberries." Jeremy Stanton, owner of a sustainable butcher shop and catering business, told Civil Eats, "This is about being an activist in the way that I know how to be an activist — by feeding people."
In addition to providing support to the protesters, Wicks wrote in an article for Eco Watch that the dinner serves other purposes, too. Most importantly, it's another way to raise awareness about the protest, and what they are fighting for, but it will also make an important statement about the significance of Thanksgiving, and the fact that the foods that are most often consumed on the holiday are ones that Native Americans originally worked hard to cultivate. And while the myth of a harmonious Thanksgiving between native people and settlers dinner still lingers (if it hasn't otherwise been usurped completely by modern notions of family dinners and Black Friday sales), the reality is that Thanksgiving is really a reminder that Native Americans have been exploited for centuries, and have had their rights diminished at every turn — just as, many now argue, the Standing Rock Sioux are continuing to experience now as they stand up against the Dakota Access Pipeline.
Despite the anger that many are feeling about the conditions the protesters are facing though, Wicks told Civil Eats that the focus of the dinner is still meant to be one of love and positivity:
To me, this is about a life-or-death struggle and the native people are on the front lines. I'm going to honor the values they're demonstrating—non-violence, cooperation, generosity, respect for mother earth and for others—even in the face of these armed riot police. So bringing them this dinner is a small token of my gratitude.
In addition to the dinner, volunteers will also be helping to build a straw bale community center, to provide shelter for protesters as winter approaches, according to Honor The Earth. In a statement, Bob Gough, Secretary of the Intertribal Council on Utility Policy said:
The Magaki-Oti or Brown Earth Lodge is being designed as a place for Protectors who need shelter during the coming winter months with gusty winds and temperatures in the minus 20s or lower.
The months-long protest, which has attracted thousands of people from all over the country, is the community's way of fighting back against the completion of the $3.8-billion pipeline meant to carry crude oil from North Dakota to Illinois. Activists have argued that the project's proximity to the reservation poses a contamination risk to their drinking water and is also being built on sacred land. Police have maintained a steady presence at Standing Rock, often in riot gear, and clashes between the two groups have been aggressive.
Most recently, local law enforcement used water canons against the protesters in freezing weather, and called the situation, "an ongoing riot," according to CNN. The Standing Rock Medic and Healer Council criticized the move and called for "the immediate cessation of use of water cannons," citing the risk of hypothermia, and argued that the protesters were peaceful. The Morton County Sheriff's Department has not responded to Romper's request for comment regarding why water cannons were used in freezing temperatures.
President Barack Obama said earlier this month that the U.S. Army Corps of Engineers was looking into whether the pipeline could be rerouted to avoid the Standing Rock reservation, but that he planned "to let it play out for several more weeks," before making a decision, according to The New York Times. Energy Transfer Partners CEO Kelcy Warren has since said he is not open to rerouting the pipeline, according to CBS News, and said he believes President-elect Donald Trump will ultimately be supportive of the project being completed as originally planned, particularly given that Trump is a stockholder in Energy Transfer Partners.