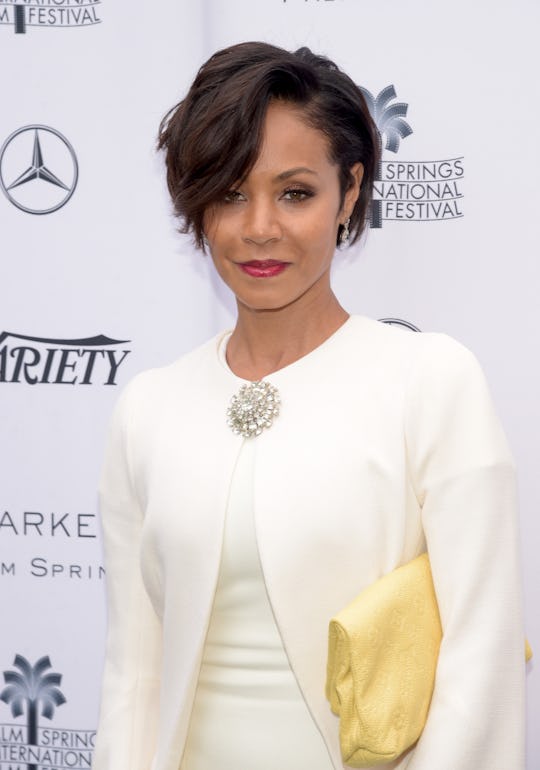 Janet Hubert Slammed Jada Pinkett Smith's Oscars Boycott & Raised A Crucial Point About Diversity
The normal Oscars buzz has a far different tone this year. For the second year, a lack of racial diversity among the 2016 Oscar nominees has sparked massive outcry from black and Latino communities. Amidst the frustration over racial and gender inclusion, some are calling for actors of color to boycott the awards altogether, and others argue that boycotting would do little to change how Oscar decisions are made. The conversation came to a head Tuesday when actress Janet Hubert slammed Jada Pinkett Smith for calling on black actors and filmmakers to sit out the 2016 awards, according to Entertainment Online. Hubert's response carried the heat and bite of an old feud, but the point she makes shouldn't be ignored.
Recently, rumbles on social media over a possible boycott came to a head when Pinkett Smith issued a message calling on her colleagues in the film industry to boycott the awards. Pinkett Smith tweeted her disappointment over the Academy's failure to recognize the contributions of people of color, writing that "at the Oscars...people of color are always welcomed to give out awards ... even entertain," but "are rarely recognized for our artistic accomplishments," according to Entertainment Online
Pinkett Smith was certainly not alone in raising the issue, as #OscarsSoWhite became a trending topic on Twitter and a leading news story in the days following the Oscar announcements.
Quickly after Jada issued her call to action, director and producer Spike Lee joined Pinkett-Smith's call for a boycott. Lee's latest film Chi-Raq was passed over by the Academy for a nomination this year.
But when Fresh Prince of Bel-Air star Janet Hubert weighed in on the Oscar controversy, the conversation got a bit more real. Hubert, better known as Aunt Vivian in the first three seasons of The Fresh Prince of Bel-Air, took both Pinkett Smith and Will Smith to task for asking their colleagues to sit out the Oscars, arguing that the pair had their own motives for feeling snubbed this year. She said that the duo were asking their fellow actors to jeopardize their careers by boycotting the Oscars, according to the video:
For you to ask other actors and other 'blacktresses' and black actors to jeopardize their career and their standing in a town you know damn well you don't do that. And here's the other thing — they don't care. They don't care!
I find it ironic that somebody who has made their living and has made millions and millions of dollars from the very people that you're talking about boycotting just because you didn't get a nomination, just because you didn't win? That's not the way life works, baby.
Hubert, who was replaced on the show that launched Will Smith's career after just three seasons, brought up her own history with Will to make a point about the diversity and solidarity issues at the center of Pinkett Smith's call to action, according to the video:
I seem to remember at option time, coming to you and saying, 'You know what, Will? You're the star of the show. Why don't we all get together, and with you maybe we could get a little raise. Maybe the network, since the show is such a hit and you being the star of the show, your influence would help us greatly. Like they did on 'Friends!' Like white shows do! Remember that? Do you remember that? Because I do. And your response to me was, 'My deal is my deal and y'all's deal is y'all's deal.' Well, karma must be a bitch, because now here you are.
Hubert was clearly working through her own bad blood with the Smiths. But the point she makes about the motives for an Oscars boycott — and the futility of seeking much-needed diversity changes through an Oscars boycott — is important.
Pinkett Smith's husband, Will Smith was snubbed by the Academy this year for his role in the widely-acclaimed film Concussion. Will Smith had earned previous Academy Award nominations for his work in Ali (2001)and The Pursuit of Happyness (2006). In neither of those years — nor in the eight other years where there were no African-American Best Actor nominations —did Will Smith or Jada Pinkett Smith denounce the Academy Awards' lack of diversity. And that's the important point Hubert was trying to make.
Spike Lee's complicated Oscars history spans more than 30 years. While Lee is considered the most famous black filmmaker in the history of American cinema, his movies rarely receive Academy Award recognition. The Academy presented Lee with an honorary Oscar (comparable to a lifetime achievement award) in 2015. Speaking to CNN, Lee raised the irony that, in the same year, the Academy members denied nominations to Selma director Ava DuVernay and leading actor David Oyelowo:
The Academy is trying to be more diverse. [Academy president] Cheryl [Boone Isaacs] is trying to open it up and have more diversity amongst the members of the Academy of Motion Picture Arts and Sciences. But with 'Selma,' it's not the first time it's happened, and every time it does I say, 'You can't go to awards like the Oscars... for validation. The validation is if your work still stands 25 years later.'
The frustration is real. But boycotting the award show is probably the slowest, least effective strategy for helping the Oscars (and the film industry, generally) be more diverse, and that's exactly why people should be listening to Hubert. According to CNN, there are some 7,000 members of the Academy of Motion Picture Arts & Sciences. And it's no secret that the majority of members are white, male and tend to be far older than the average moviegoer. Until that changes, diversity is always going to be an issue.
The good news is that the organization seems to be at least aware that changes are sorely needed. In a statement released late Monday night, Academy President Cheryl Boone Isaacs condemned the Academy's lack of diversity in its nominees. Isaacs announced plans to "take dramatic steps" at the membership level and promised "big changes" to recruitment in order to bring more diverse voices to the 2016 class and beyond.
The time for change is long overdue. In the 88-year history of the Academy Awards, only four black men have won Oscars for Best Actor and only one black woman, Halle Berry, has won for Best Actress, according to the Academy Awards database. The question is: will the Academy be more inclined to respond to a boycott by a number of stars, or will an influx of members with the power to vote for talented actors of color make a bigger difference. According to Hubert, the latter would be more powerful, and boycotting the Oscars isn't going to change the board's inclinations or the diversity of its members.
Image: Jason Kempin/Getty Images Entertainment