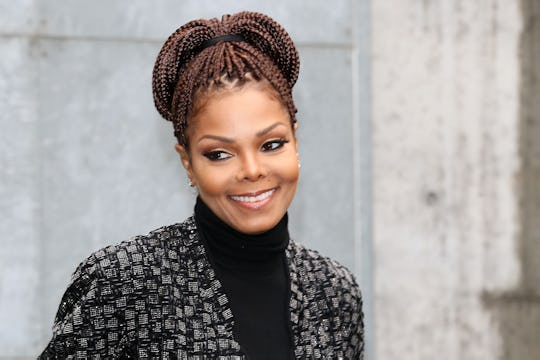 Vittorio Zunino Celotto/Getty Images Entertainment/Getty Images
Janet Jackson Confirms Her Pregnancy, & Shares Her First Pregnancy Bump Photo
This isn't exactly a surprise, but it's still great news. Janet Jackson has finally confirmed her pregnancy to People, and provided the magazine with her first official "baby bump" photo, in which she looks absolutely radiant and roughly half of her 50 years of age. The news has been a long time coming; in early April, Jackson announced on social media that she was delaying her tour because she and her husband, Qatari businessman Wissam Al Mana, were "planning [their] family," and she was on doctor's orders to rest. It was unclear if she was already pregnant at that time, but one month later, multiple outlets were claiming that sources put Jackson in her first trimester.
In mid-May, Jackson's brother Jermaine took it upon himself to reveal that "She is fine, but she's having a baby." However, he was unable to tell reporters what his sister was craving, the gender of her baby, or her due date (he said she was due "maybe in the next seven, eight months"), so it seems that Jermaine isn't the best source for Janet news. But in late September, the paparazzi caught the singer shopping for baby furniture in London while wearing baggy clothes in a futile attempt to hide her stomach. Now, she's announcing the pregnancy on her terms.
This will be the first child for Jackson and Al Mana, a billionaire who, together with his brothers, runs a conglomerate comprised of more than 50 companies in industries ranging from retail to automotive to real estate. Al Mana is a private person, and their relationship was always kept rather quiet. Rumors that the couple were dating first began in May of 2010, and in November, Al Mana confirmed the relationship to VMAN magazine, saying, "I don't date Janet Jackson. She is my girlfriend; there is a difference. She is a very special and talented woman who never ceases to amaze me."
In December 2012, the rumor mill started working overtime, claiming that the couple was recently engaged and planning an extravagant spring wedding with "all of Janet's friends and family" being flown in on private jets, and a "custom menu," which honestly doesn't seem that out of the ordinary to me. The stories were finally put to rest when Entertainment Tonight released the following statement:
The rumours regarding an extravagant wedding are simply not true. Last year we were married in a quiet, private, and beautiful ceremony. Our wedding gifts to one another were contributions to our respective favourite children's charities. We would appreciate that our privacy is respected and that we are allowed this time for celebration and joy. With love, Wissam and Janet
I can't wait to see what other crazy stories the tabloids invent before Jackson and Al Mana finally set them straight. For the baby's sake, I hope we don't see any photos for a long time, unless they're parent-approved.