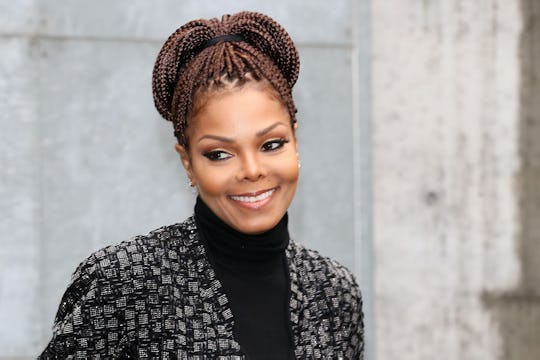 Vittorio Zunino Celotto/Getty Images Entertainment/Getty Images
Janet Jackson's Son Eissa Is Absolutely Adorable
When celebrities keep their children private, away from the spotlight, it's understandable why they would do so. However, when they do give those rare glimpses of their children, they can be so exciting for long time fans of those celebrities. Singer and pop legend Janet Jackson has remained quiet and private throughout the duration of her first pregnancy (and during the time after) — but now, just three months after giving birth, Jackson is breaking her silence. On Friday night, Janet Jackson shared the first photo her her son Eissa and is it was well worth the wait. The baby is so stinkin' cute.
After giving birth to Eissa on January 3, Jackson quietly announced the news through her representative. During the months leading up to her son's birth, Jackson focused on getting rest per her doctor's orders and not saying much else about her pregnancy. But a lot can change over time. Jackson took to Twitter for the first time since November (and before Eissa was born) to break her silence and simultaneously share the first photo of her baby boy with estranged husband Wissam Al Mana. The baby boy could not be any cuter in the photo, with his eyes closed, mid-yawn as his mother lovingly cuddles him beside her. "My baby and me after nap time," Jackson wrote. This first glimpse at Eissa was well worth the silence — because he is absolutely adorable.
This tweet marks the first time Jackson has spoken since splitting from Al Mana over the weekend, according to People. This glimpse of Jackson and Eissa shows fans that they're both doing great and that there are better things to talk about and do — like taking naps — rather than Jackson's relationship.
But this photo is not the first time that fans have seen Jackson since the birth of Eissa. On Friday, shortly before sharing the selfie with fans, Jackson made one of her first public appearances with her baby boy in a park in London, England since giving birth. In those past three months since giving birth, Jackson has remained secluded in her home in London, according to Mirror.
For a woman of so few words, this tweet and photo is a much needed update from Jackson. It's great to see Jackson doing well, especially after being out of the public eye for so long. This first glimpse at Eissa was a much welcomed treat for long time Janet Jackson fans.