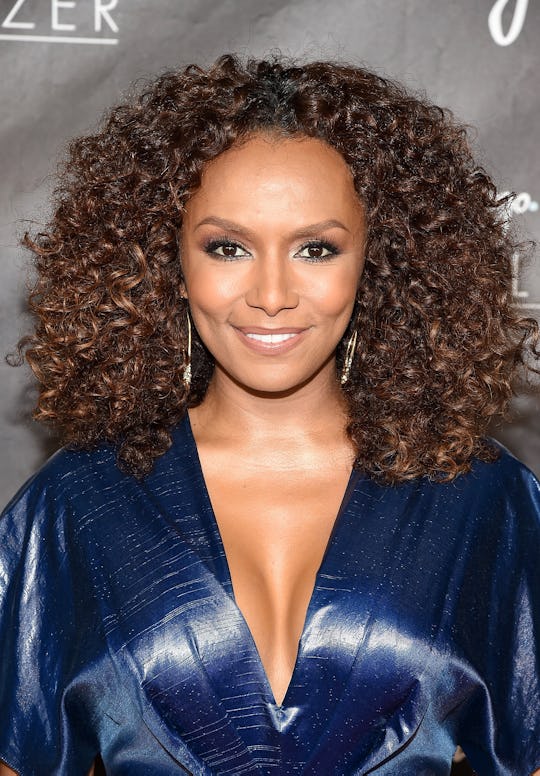 Gary Gershoff/Getty Images Entertainment/Getty Images
Janet Mock Responds To Trump's Bathroom Order
In the wake of the President Donald Trump's move to revoke Obama-era federal bathroom policies that allow transgender students to use the bathrooms of their choice, many celebrities and activists took to social media to protest Trump's decision. But one public figure's voice in particular spoke volumes and that was media personality Janet Mock's response to bathroom protections being rescinded in public schools. Mock — a trans activist, journalist, and New York Times bestselling author — perfectly explained through her firsthand experience how this new order could damage the years of progress that have made transgender students feel safe and welcomed in schools. Not an outcast, but just like any other kid.
"I just read the news that the Trump administration decided to roll back protections for trans students, and it infuriates me because I know what it's like to be escorted to the restroom, to be told you do not belong, to have my body and gender policed and checked daily," Mock captioned the photo she shared on Instagram on Wednesday night of her 16-year-old self soon after she came out as Janet. Mock was formerly known as Charles.
Her response continued:
I know first hand how vital it is for young people -- for all of us actually -- to be met with nods, applause, and open doors. It's even more urgent for marginalized students, regardless of their ability, race, class, immigration status, religion, sexual orientation or gender expression and/or identities.
The 33-year-old author of Redefining Realness explained on Instagram how school made it "incredibly difficult" for her to begin her transition when she was a freshman in high school. She wrote:
I had issues with bathrooms and locker room access. I was sent home repeatedly due to "dress code violations." I was repeatedly called out of my name and misgendered daily by classmates and staff. I would go home at night and seriously contemplate never returning. The struggle of waking up every day, getting dressed, walking to school and being met with stares and closed doors weighed heavily on me.
The Obama Administration's guidance, publicized last May, essentially made this struggle much easier to cope with as it previously allowed transgender students to use school bathrooms and locker rooms that match their gender identities. Now, Trump's team believes that states and school districts should be responsible making the decision on whether transgender students can have this choice.
According to NPR, civil rights groups are worried the new move could "lead to bullying and violence against vulnerable transgender kids."
"The consequences of this decision will no doubt be heartbreaking," Human Rights Campaign president Chad Griffin told The New York Times on Wednesday. "This isn't a states' rights issue, it's a civil rights issue."
Since Wednesday's announcement, scores of people have voiced their outrage, and Mock's powerful response shows that, through her own experience, this new order could only reverse the years of progress that have made it so all kids can thrive in a school where they feel safe and welcomed.
"To young trans folk: Remember that this is your school too," Mock concluded the Instagram post. "You deserve to be there just as much as any other student. You deserve equal access, affirmation and an education, and you must recognize that you are powerful. You belong, and nothing -- absolutely nothing -- is wrong with you."