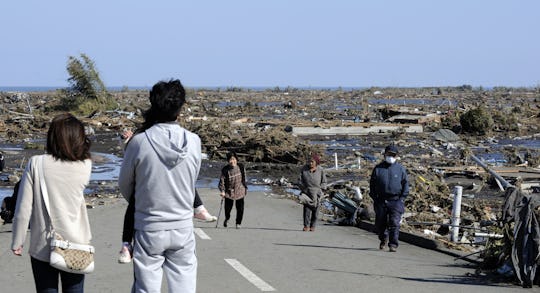 KAZUHIRO NOGI/AFP/Getty Images
Japan Issues Tsunami Warning Following 6.9 Magnitude Earthquake Near Fukushima
A 6.9 magnitude earthquake struck off the coast of Japan on Monday. As a result, officials in Japan issued a tsunami warning to those near Fukushima, where the quake originated The Guardian reported. According to CNN, the Japan Meteorological Agency reported that at least one wave had "been observed offshore" a short while after the quake hit, and that it was expected to grow.
Update: the Japan Meteorological Agency on Tuesday upgraded the initial quake to a magnitude 7.4 once again, with officials reporting a tsunami wave of 1-meter off the coast of Fukushima, according to the AFP.
As ABC News reported, the Japan Meteorological Agency revealed that the quake hit just before 6 a.m. on Tuesday local Japan time (around 4 p.m. ET). According to Reuters, no immediate major damage has been reported as of yet.
The Japan Meteorological Agency released the following advisory regarding the tsunami:
Damage due to tsunami waves is expected. Evacuate immediately from coastal regions and riverside areas to a safer place such as high ground or an evacuation building. Tsunami waves are expected to hit repeatedly. Do not leave safe ground until the warning is lifted.
A live stream by Japan's NHK World News has indicated that shortly after 7 a.m. local time, a tsunami, reportedly about 60 centimeters in height, has been detected on the coastal areas at Onahama Port, and at the Port of Soma in Fukushima, where a 90-centimeter tsunami has been detected.
NBC News reported that tsunami waves up to 3 meters were expected.
Jake Emen, an American staying in Tokyo, told NBC News that he felt the effects of the quake at about 6 a.m.
"After settling down, an emergency announcement was made by the hotel indicating the building was stable but to avoid using elevators until they were tested," he said.
In March 2011, a devastating 9-magnitude earthquake, and subsequent tsunami hit the same region in Japan. According to Livescience, the first of many tsunami waves hit the region less than an hour after the earthquake. Japan's National Police Agency reported that the quake and tsunami caused 15,891 deaths as of April 2015, Livescience reported.
The tsunami greatly damaged the Fukushima Daiichi Nuclear Power Plant, with an estimated cost of damage of $300 billion, Livescience reported.
As of now, Tokyo Electric Power Company (TEPCO) has reported that "no abnormalities" have been detected since Tuesday morning's quake.
According to NPR, Japanese Prime Minister Shinzo Abe released the following statement to reporters regarding the tsunami warnings:
"I have ordered my government to immediately collect and provide information regarding tsunami evacuations and do everything to tackle the disaster."