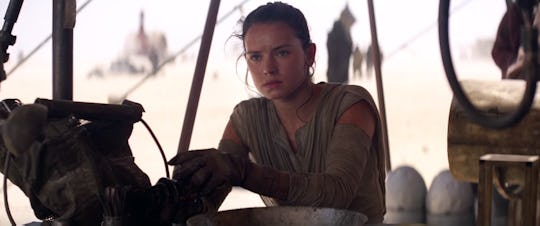 Walt Disney Studios Japan/YouTube
Japanese 'Star Wars: The Force Awakens' Trailer Shows Us These 4 New Things From The Anticipated Release — VIDEO
Just when we thought Star Wars mania couldn't become any more — well — manic, it did just that with the unexpected release of an amazing new trailer. On Friday, the Japanese Star Wars: The Force Awakens teaser hit the Internet, and though we saw some scenes from the English version that aired a couple of weeks ago, there is also some crazy new footage for fans.
And what exactly is that new footage? I'll make things easy for you. Here are four things we saw in the Japanese Star Wars: The Force Awakens trailer that are as exciting as, well, the idea of a new Star Wars movie. 
More BB-8!
Though we've seen BB-8 — the adorable new droid which looks like the Death Star and R2D2 had a baby — rolling across our screens before, we have never seen this much of it, and until today, we have never heard it speak. And while we may not understand it, per se, the opening scene between him and Rey speaks volumes.
The Story Is Strong With This One
In one line — one very important line — Rey (Daisy Ridley) manages to capture what I am sure will be a pivotal plot point:
I know all about waiting... for my family.
We also get to hear Finn introduce himself for the first time, see additional shots of an aerial battle sequences between TIE Fighters and the Resistance's forces, and hear a line from the what we assume to be Lupita Nyong'o's still-unseen character, Maz Kanata. 
More Classic Characters
If you've been following the The Force Awakens for months — maybe even years — now you already knew they were coming back. After all, they are in the cast credits on IMBD, and they have appeared in the promo shots, the American trailer, and, just a few weeks ago, on the official Star Wars: The Force Awakens promotional posters. But us fanboys and girls cannot get enough of the classic characters. And how could we? We grew up with Luke (Mark Hamill), Leia (Carrie Fischer), Han Solo (Harrison Ford), Chewbacca (Peter Mayhew), C3PO (Anthony Daniels), and R2D2 (Kenny Baker). And though we still didn't get even so much as a glimpse at Luke — ugh! — the others did make an appearance in this two-minute trailer.
Kylo Ren And His "Infamous" Lightsaber
There has been a lot of talk about Kylo Ren's (Adam Driver) new lightsaber design, and whether you like it or hate it, you cannot deny this scene speaks volumes about this weapon and his character:
You see, in this two-second long clip, we get to see his saber up close and personal, and what we see is telling. Unlike traditional lightsabers, his weapon is very, very unstable. What exactly this says about the man under the mask remains to be seen, but I'm willing to bet it is a sneak peek into his personality.
Star Wars: The Force Awakens debuts in theaters on Dec. 18, but if you are reading this article you already knew that.