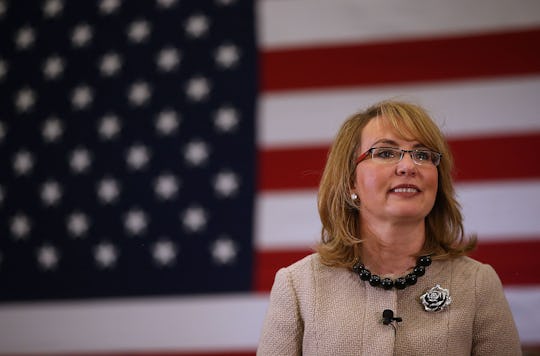 Justin Sullivan/Getty Images News/Getty Images
Jared Lee Loughner Sues Gabrielle Giffords For Being A Member Of The Illuminati (Seriously)
Former U.S. Representative Gabrielle Giffords has been through a lot over the past five years and has proven more than anything to the American people is that she is both a fighter and a survivor. After living through a brutal shooting and subsequently dealing with a long recovery, Giffords has become a living, breathing example of bravery and strength. But just when she thought she'd been through it all, Giffords found herself confronted with one very strange bump in the road. This week, the former congresswoman's attacker, Jared Lee Loughner, sued Giffords for being a member of the Illuminati, things got weird — seriously weird.
First, a brief recap of what happened back on January 8, 2011. Giffords, along with 17 others, was attending a constituents' meet and greet outside a Safeway supermarket. The meeting was a part of the "Congress in Your Corner" program, a program through which representatives like Giffords could remain closely connected to local concerns. Suddenly, a man with a firearm (Loughner) ran up through the crowd and opened fire. Six attendees were killed, and Giffords was left with severe brain trauma after she was shot in the head during the attack. Police believed that Giffords had been the target of the attack, though Loughner's motive remained a mystery. Slowly but surely, in the past five years, Giffords has relearned to walk and speak in full sentences, continuing to gain back some of the life she had before her tragedy.
Finally, in 2012, Loughner, the lone gunman behind the tragic shooting spree, was sentenced to seven consecutive life terms, as well as an additional 140 years in prison. Loughner pled guilty to 19 federal charges knowing he would spend his life in prison without the possibility of parole. Loughner has remained pretty quiet from prison until this past Friday when he filed the curious lawsuit against Giffords.
The court documents, which cited Giffords and the Federal Bureau of Prisons, were filed by Lougher from prison in Rochester, Minnesota on March 18. In the filing, Loughner specified that he was seeking $25 million for "emotional and psychological distress." The entire court filing document has been made public to read in full on Scribd, but there are a few highlights from the document.
First, Loughner claimed he was innocent of the crime he had committed:
I am actually innocent. I was framed I am a victim of project mk-ultra the govt. put a chip in my head to control my mind.
Loughner then claimed that Giffords was part of the Illuminati and that the shooting was staged:
Gabby Giffords never got shot, it was all an act, Giffords watches Ronald Reagan movies and pretened [sic] she was hit. Secreatary [sic] of state brady shot giffords and frank giffords is brain dead because of the defendants mind control.
Talk about a completely random claim. While Loughner claims he has evidence that Giffords belongs to the secret society of very powerful people who are set out to infiltrate the minds of the less rich and powerful, I find it very hard to believe. Giffords has not been spotted out with Beyonce and Jay Z or making triangles with her hands — two tell-tale signs of being a member of the Illuminati, obviously — which makes the claim all the more unbelievable.
In addition to the wild accusations, Loughner also complained about not receiving proper nutrition or eating the right foods in prison. "Im not getting proper food in prison," he stated. "No peppers, steaks, fruit juices... my water has fluoride ... defendants plant parasites in my water and feed me aspartame by Monsanto."
The claims, which are completely bizarre and false, will probably never see the light of day in the court system. A signed note stamped on the document states "This document is not in proper form according to federal and/or local rules and practices and is subject to rejection by the court."
While this could be a publicity stunt on Loughner's part, it also falls in line with Loughner's history of erratic behavior. Before his arrest, Loughner had not undergone mental health treatment for the way he had been acting.According to New York Daily News, Giffords' camp has not confirmed whether or not the newly filed court papers are even real, so all of this could actually end up being a moot point in the end anyway.
Whatever the case may be, it doesn't look like Loughner will be seeing a cent of that $25 million anytime soon.