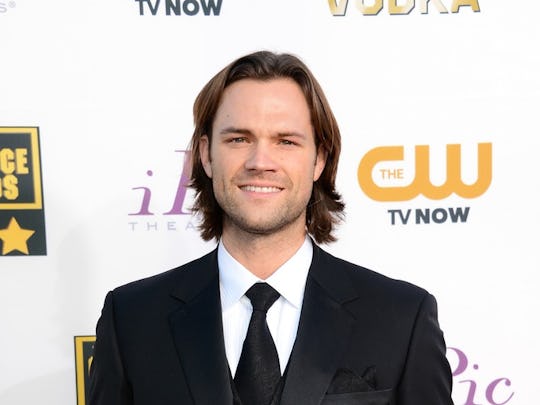 Ethan Miller/Gett Images Entertainment/Getty Images
Jared Padalecki Will Join The 'Gilmore Girls' Revival & Almost Complete The Original Cast List
Nostalgia for the 2000s is running higher than ever before with news that Jared Padalecki will appear in the Gilmore Girls Reunion. Padalecki has been starring on the CW's Supernatural for the last decade, but he's managed to carve out time to appear in the Netflix miniseries, according to E! Online. The series, reportedly called Gilmore Girls: Seasons, will only feature four episodes, but showrunner Amy Sherman-Palladino told TV Line that they'll be super-sized, 90-minute episodes that cover a full year in the fictional town of Star's Hollow. Each episode will be titled after, and take place during, a different season: Winter, Spring, Summer, and Fall.
Padalecki played Dean Forester on the original series, an on-again, off-again boyfriend to Rory Gilmore. His addition to the cast now completes the boyfriend trifecta; Matt Czuchry and Milo Ventimiglia, who played Logan and Jess, respectively, are also returning. In fact, just about every cast member has signed on thus far: Lauren Graham, Alexis Bledel, Kelly Bishop, Scott Patterson, Liza Weil, Sean Gunn, Keiko Agena, Rose Abdoo, John Cabrera, Todd Lowe, Tanc Sade, and Yanic Truesdale are all confirmed. Unfortunately, Edward Herrmann, who played Richard Gilmore, passed away in 2014. But it looks like almost all the key players are back.
Yes, almost. Because, Melissa McCarthy, who appeared in all but one episode of the original series, is missing from the cast list, and the circumstances are mysterious. On Feb. 1, TV Line published an interview with Sherman-Palladino where she implied that she had reached out to McCarthy's people, but she doesn't think that McCarthy has time for the project: "Look, if Melissa is available and has an afternoon free, I'll write her a scene. Melissa was one of us. If she has a spare moment to run over [to the set] — even if for just a cameo — we would be totally game." She continued, "It simply would've been impossible. Planning around her crazypants schedule and her movies and her this and her that and Ghostbusters."
But did Sherman-Palladino actually speak to anyone in McCarthy's camp? The very next day, McCarthy tweeted that "no one asked me or Sookie to come back to Stars Hollow." Could this all be a big misunderstanding?
Meanwhile, the cast will be joined by at least one new member: Sutton Foster, of TV Land's Younger. Foster also starred in Sherman-Palladino's short-lived show Bunheads. TV Line speculated that Foster could be reviving her Bunheads character for a crossover, although that would be a little confusing, since Kelly Bishop appeared on both shows as two separate characters, and will be reprising her role as Emily Gilmore in the revival. News about the series seems to be coming fast and furious, though, so fans are sure to learn more soon.