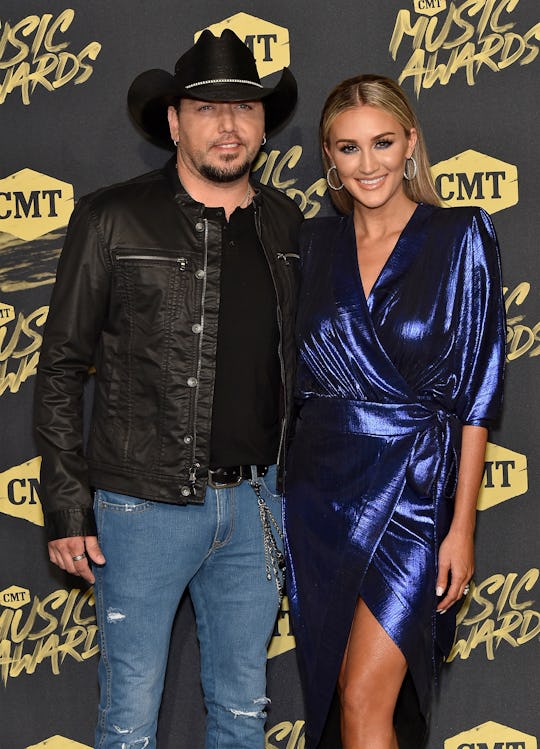 Mike Coppola/Getty Images Entertainment/Getty Images
This Country Crooner Is Ready To Welcome Baby #2
With one son in still in diapers, country music star Jason Aldean and wife Brittany have a baby on the way. The duo announced the happy news with simultaneous Instagram posts showing their 7-month-old son Memphis in a onesie that reads "Big Brother." Aldean and Brittany struggled to conceive the first time around, making the news of their coming addition all the more exciting.
Aldean's version of the post was captioned, "Sup everybody……. guess who is gonna be a BIG brother!" while Brittany wrote "Here we go again!" While he may be a bit too young to understand what all of the excitement is about, Memphis will certainly make a cute older brother. Along with son Memphis who is featured in the photo, the new baby will have two other older siblings — 11-year-old Kendyll and 15-year-old Keeley from Aldeans previous marriage, according to People.
Memphis was born this past December. Follow his birth, the couple opened up about the long road that led them to parenthood. After a year of trying for a baby, an endometriosis diagnosis, and an eventual in vitro fertilization treatment, the two were blessed with a healthy baby boy. At the time, Brittany explained to People that that year was not without pain.
Brittany told the host of the podcast Babes and Babies that the process was more challenging for her than actually carrying Memphis, saying:
The IVF was probably harder than the actual pregnancy, for me, because it was just such a roller coaster and so difficult. It's such high highs and such low lows, and no one really knows that you're going through it all so you have to just put on a game face and pretend that you're not giving yourself shots in your stomach every day, all day.
Along with struggling through the physical demands of fertility treatments, she explained on the podcast that the emotional weight of considering a surrogate was heavy, according to Today:
We were thinking about all the options, which is sad because you want to be able to carry your own child, but then you're thinking, 'What's wrong with me? Why can't I? Why is it not implanting? I don't understand.
Today reported that the couple's IVF process was strenuous as well. Brittany said:
We would do a transfer, which is basically where they would implant an embryo, and then it wouldn't take. So for a ten-day period, you would think, 'Oh I think I might be pregnant.' They give you a blood test at the end of the ten-day period and you're not. So in your mind, it's almost like you've had a little bit of a miscarriage, because you expect to be pregnant and you're not. That happened to us multiple times.
Even though it was hard to get there, Aldean and Brittany were eager to continue to grow their family. As Aldean told Taste of Country, they already had one baby, what's one more:
Our theory is, 'Hey, we got one in diapers and formula right now so, while we're in this mindset we might as well knock it out. We both agreed that we wanted to have two. I have two older daughters and there's a pretty big age difference in my two older daughters and Memphis, so we wanted to have one who's a little closer in age to him so he has somebody to hang out with.
The couple has been open about their parenthood journey thus far, so fans can likely look forward to lots of info on their coming addition. But even if they decide to play things a bit closer to the vest this time, their many followers have plenty to celebrate already. Congratulations!