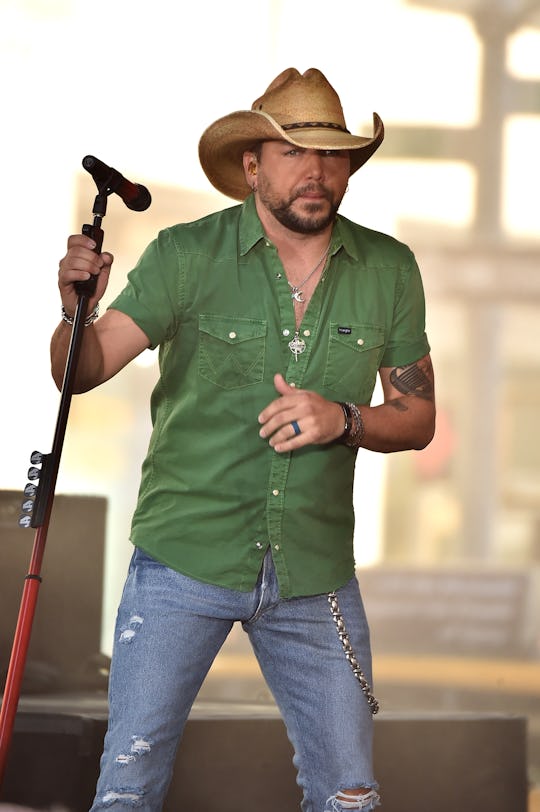 Theo Wargo/Getty Images Entertainment/Getty Images
Jason Aldean Posts A Heartbreaking Response After Vegas Shooting
On Sunday night, there was a violent mass shooting that took place at a country music festival in Las Vegas. The festival, called the Route 91 Harvest Music Festival, began in 2014 and brought country to Vegas, as its Facebook page boasts. On Sunday night, a gunman opened fire and killed concertgoers who were enjoying the festival. The shooting occurred during Jason Aldean's set, who was headlining the festival, as CNN has footage of the country superstar running off the stage after hearing gunshots. And in Jason Aldean's response to the Las Vegas shooting, the innocence that fans were robbed of is very present, and very heartbreaking.
Update: Aldean released a second statement on social media late Monday night with the following statement:
"Over the last 24 hrs I have gone through lots of emotions. Scared, Anger, Heartache, Compassion and many others. I truely [sic] dont understand why a person would want to take the life of another. Something has changed in this country and in this world lately that is scary to see. This world is becoming the kind of place i am afraid to raise my children in. At the end of the day we arent [sic] Democrats or Republicans, Whites or Blacks, Men or Women. We are all humans and we are all Americans and its time to start acting like it and stand together as ONE! That is the only way we will ever get this Country to be better than it has ever been, but we have a long way to go and we have to start now. My heart aches for the Victims and their families of this Senseless act. I am so sorry for the hurt and pain everyone is feeling right now and there are no words i can say to to take that pain away. Just know u all are in my heart and my prayers as we all go through this together. Time to come together and stop the hate! "
Earlier: As of 6 p.m. ET on Monday, Oct. 2, CNN reports that 59 people have died and over 500 people were injured. Authorities say the suspect had 18 additional firearms, explosives and several thousand rounds of ammo at his home in Mesquite, Nevada.
Earlier: Early Monday morning, Aldean wrote to his fans on Instagram about the attack and the mayhem and carnage that unfortunately took place at his concert. He wrote in an Instagram post that accompanied a meme of the Las Vegas strip with the words "Pray for Las Vegas" over it:
Tonight has been beyond horrific. I still dont know what to say but wanted to let everyone know that Me and my Crew are safe. My Thoughts and prayers go out to everyone involved tonight. It hurts my heart that this would happen to anyone who was just coming out to enjoy what should have been a fun night. #heartbroken#stopthehate
According to reports and video footage shared by concert-goers and eyewitness reports, Aldean was performing when a shooter "perched" in the Mandalay Bay Resort & Casino, opened fire. With over 50 deaths and over 406 people brought to Las Vegas (and surrounding) hospitals due to injuries sustained at the concert, the mayhem and tragedy that struck Las Vegas on Sunday night is now considered the deadliest shooting in modern U.S. history.
Many artists and musicians took to social media to support those that were hurt in the attack that took place on Sunday. It was an outstanding call for unity and denouncing the "evil" that occurred at the festival, as country star Cassadee Pope detailed.
Carrie Underwood, Miranda Lambert, and Luke Bryan — all three country music artists and some former Route 91 Harvest festival performers — shared their thoughts and prayers to those affected by the shooting that occurred in Las Vegas at the Route 91 Harvest Music Festival.
President Donald Trump also took to Twitter to express his condolences for those that were affected by the shooting, stating, "My warmest condolences and sympathies to the victims and families of the terrible Las Vegas shooting. God bless you!"
President Barack Obama also released a statement regarding the tragedy in Las Vegas. He said, "Michelle & I are praying for the victims in Las Vegas. Our thoughts are with their families & everyone enduring another senseless tragedy."
According to the Las Vegas Metropolitan Police Department, the shooter opened fire on more than 22,000 people from the 32nd floor of a hotel room, overlooking the concert festivities. The press release states that the Clark County Fire Department estimates that approximately 406 people were transported to hospitals in the surrounding area.
Another note added to the notice is that identification process of the injured and deceased will take some time. It is an important reminder that the reports and the names being released are not always accurate, as BuzzFeed News reports. This shooting has been the center of many hoax reports, but tragedy is rooted in reality.