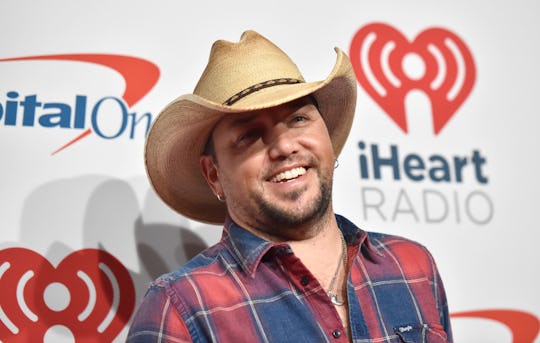 David Becker/Getty Images Entertainment/Getty Images
Jason Aldean's Custom-Made Tour Bus For His Babies Sounds Pretty Epic
In case you missed the happy news, Jason Aldean and his wife, Brittany Aldean, announced in July that they're expecting another child. The development is exciting, to say the least, especially since the couple welcomed their son, Memphis, only nine months ago. But as thrilling as this turn of events is, one has to wonder how the country singer will navigate touring with two young kids in tow. As it turns out, Jason Aldean's tour bus is tailor-made for babies.
Fans were psyched when Aldean took to Instagram in July to share his happy baby news. "Sup everybody....... guess who is gonna be a BIG brother! #thisdude#aldeanpartyof6," the country star captioned a shot of Memphis donning a onesie that read, "Big Brother."
Aldean and Brittany later revealed the baby's sex with supporters, capturing their reveal party on video. The sweet clip showed Aldean's daughters from his first marriage (Keeley, 15, and Kendyl, 11), hitting baseballs that exploded with pink powder. Yep, Aldean is set to welcome another girl into his family.
Aldean and Brittany can't wait to welcome their little one around the holidays, especially since Memphis is set to gain a lifelong friend when she arrives.
"We're excited to have them close together in age," Aldean shared with Us Weekly. "I think it's going to be fun and hopefully they'll grow up really close and have a built-in best friend. That's kind of what we're hoping for."
Excitement aside, it's fair to wonder how Aldean plans to cart two babies around the country during tour season. Won't that be a bit difficult?
Luckily for Memphis and his lil' sis, Aldean already has this dilemma figured out. "We're having a bus built now. It's got two cribs," Aldean explained, according to People. "It's a lot different now than it was the early part of my career."
Sounds amazing, right? In fact, this tour bus sounds more plush than my own apartment. Way to go, poppa Aldean.
Of course, it took a few tries before Aldean got the whole touring with kids thing down. The country icon admitted in an interview with Taste of Country Nights that his daughters spent their early days crammed in a tiny tour bus, revealing:
Back when [my daughters] were born, when I was touring I was on one bus with my whole band—there was 12 of us on a bus, so I wasn't in a position to be able to carry them out a whole lot back then.
Aldean also shared that scheduling time with his eldest kids was tough during the height of his fame. He added:
And then, my oldest one started school. They would come out for the summer sometimes. But [Memphis] is going to be out there and grow up around it nonstop. It's going to be interesting to see what kind of musical skills he develops over the years.
Aww. It's easy to imagine Memphis as a little rock star in training.
But if you're still worried about how Aldean will manage two infants during the busiest time of his career, rest assured that Brittany will be there to pick up the slack. He once said about Brittany's parenting skills, according to Sounds Like Nashville:
To see her with him and how good she is with him, it's pretty cool. Her favorite thing is bath time. She'd give him five baths a day just because she likes to see him in the tub and he likes getting baths anyway. You notice a lot of her pictures are him getting in the tub or getting out of the tub, so that's their thing. A special part of the day is bath time.
Yep, it sounds like Aldean and Brittany have everything covered. Good luck with tour season, guys.