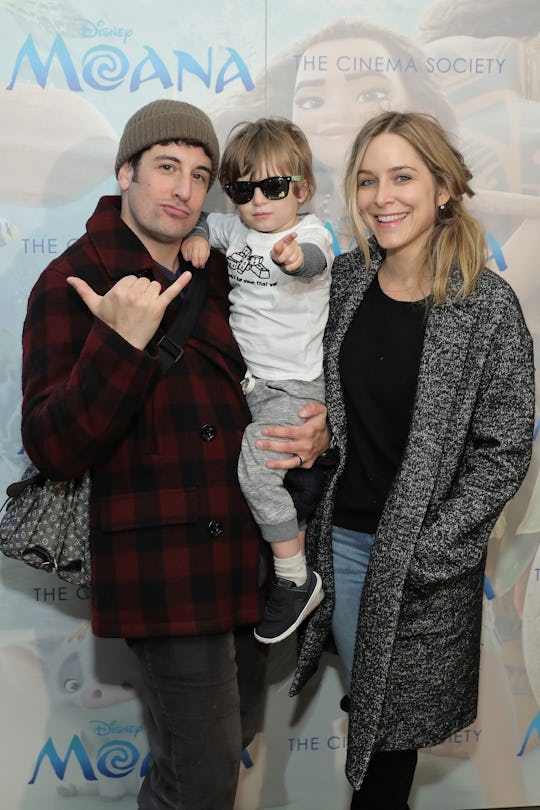 Neilson Barnard/Getty Images Entertainment/Getty Images
Jason Biggs' Best Dad Instagrams Are Hilarious
It's safe to say that Jason Biggs has been making people laugh for years. From the late '90s classic, American Pie, to the Netflix original series, Orange Is The New Black, Biggs has been gracing movie screens and television screens alike in roles that highlight his many talents as an actor and funnyman. But Biggs' biggest role is, perhaps, that of dad to 3-year-old son Sid and Sid's soon-to-be baby brother or sister. In fact, Jason Biggs' best dad Instagrams show he might be even funnier off screen.
Just last week, Biggs and wife Jenny Mollen announced they were expecting their second child on Mollen's Instagram, sharing a hilarious photo of themselves sitting in bed with a NoseFrida snot sucker (one end conveniently placed in Biggs' nose, and the other in Mollen's mouth). "This is how I told my son babies are made #babynumbertwo," Mollen wrote in her announcement, a sentiment that Biggs also shared on his regram of the photo.
Both Mollen and Biggs utilize their wide-reaching social media platforms to share some pretty great parenting moments with Sid, too. Biggs' Instagrams in particular prove that the actor, who already has so much love for his son, is going to be an equally hilarious and adorable dad to the new baby as well.
Educate Your Children Early
Just one day after posted a video of himself incredibly excited about driving a minivan to his Instagram, Biggs posted a new video in the same minivan, with his in the backseat (don't worry, the van was parked). In the video, Biggs blasts "Livin' On A Prayer" by Bon Jovi. He captioned it, "Sid needs to understand his Jersey roots."
"Sid, you hear this? This is Bon Jovi. He rocks," Biggs says. Because you've got to teach your children about the wonders of Bon Jovi while they're young. Expect the newest addition to also get a full education on the wonder that is Bon Jovi.
When In Doubt, Dads Make The Best Jungle Gym
Sid's early morning wakeup call to Biggs shows that sometimes, the best benches or jungle gyms come in the shape of your parent. "Wakey wakey eggs and bakey," Biggs hilariously captioned the video of his son, jumping up and down on his head. Who needs toys when climbing on top of your parent provides just as much entertainment?
Even Toddlers Can Be Dangerous
"Sid thought it would be nice if I started off 2017 with a black eye. #toddlerheadbutt," Biggs captioned this painful photo. Despite being small, toddlers are very powerful and even dangerous at times — as evidenced by Biggs' very obvious black eye, accidentally gifted to him by his son. Let's be honest, the black eye might be painful but the story behind it is probably pretty good.
They Need To Learn What Chores Are, Sometimes
"Teaching him how to polish silverware tomorrow," Biggs captioned this adorable video of Sid cleaning the house with a hand-vac. Because if your kids are constantly making messes, the least they could do is learn how to clean them up after themselves. Right?
Seeing Double
"Sid met another Elmo at the playground, and MINDS WERE BLOWN," Biggs captioned one particularly chuckle-inducing photo of Sid meeting a kid in an identical Sesame Street costume.
Just wait until Sid goes to school and accidentally shows up wearing the same outfit as a friend — friendships never recover. At least Biggs is teaching him that now, bless.
Giving #SquadGoals A New Meaning
Aptly captioned, "#squadgoals," Biggs proved with this Instagram that his troupe rolls deep — and Mollen, Sid, and their family dog belong to one of the most enviable squads I've seen. Watch out, Taylor Swift — there's a new group giving #squadgoals a whole new definition.
Better Than The Movies
"Sid saw his first movie tonight. Unfortunately he also saw his first concession stand," Biggs joked in this photo. Because even at a young age, kids have to learn that the best part of going to the movies are the movie concessions — which includes that overpriced $10 bag of small popcorn and $5 box of M&M's that your kid inevitably spills all over the floor. (Sorry, dad.)
At The End Of The Day, Love Is All You Need
"Love love love love love love love love love love love love love love love," Biggs captioned this picture. Alright, so it's not necessarily "hilarious," but how can you not like (and, coincidentally "like") this one to the ends of the earth? Biggs' adorable photo of Sid and sweet caption shows that there is nothing more important than the love a parent has for their child — and that same love is obviously enough to cover the little guy, his mom, and his impending sibling a million times over.
It's clear through Bigg's Instagrams that there are a lot of jokes to be had between the father and son — but perhaps more importantly, a whole lot of love.