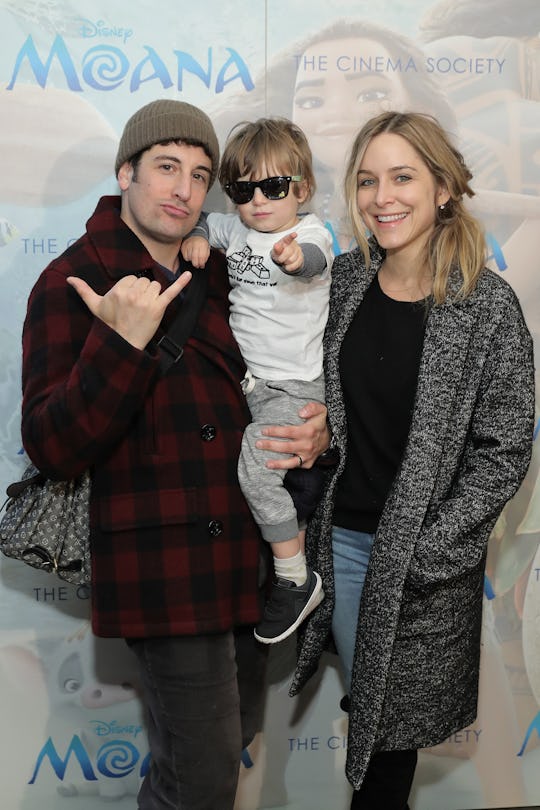 Neilson Barnard/Getty Images Entertainment/Getty Images
Jason Biggs' Quotes On Parenting Are So Funny
Actor and comedian Jason Biggs, best known for his roles in the American Pie movie franchise, added the role of Dad to his resume back in 2014. He and wife Jenny Mollen welcomed their first son, Sid, three years ago. The couple, who have been together for eight years, told In Touch they're expecting their second child, and Jason Biggs' quotes on parenting show it's no surprise he's so excited about adding to their family.
Biggs, 38, is a familiar face to many because of his role on the Netflix series Orange Is The New Black, in which he played Piper's fiancé Larry. Biggs has been married to Mollen, an actress and author, since 2008. They met on a blind date, and Biggs told Elle that they stayed up late talking at a bar after their first date, and he kind of knew she was "the one." The couple eloped together in 2008. Their first child, a son named Sid, was born in 2014. Biggs was eager to share his thoughts on becoming a parent shortly after Sid's birth. As he told PEOLPE:
What I'm learning — and what's interesting — is that my wife has changed completely, and I'm sure that I have too. That change that happens is so tangible. It happens overnight, and it's the craziest thing.
One thing Biggs said being a father hasn't changed? According to PEOPLE:
What I've learned from fatherhood is that having a son cannot, did not, change my love for The Bachelor! I thought that having a son would make me grow up when it came to my TV viewing habits, but I love The Bachelor even more after having a child.
Biggs and Mollen also shared that Sid loves to read, and that it's an important aspect of how they bond as a family. In a separate interview with PEOPLE in 2015, he explained how he and Mollen got Sid hooked on reading:
Reading was part of his bedtime routine from the very beginning. I'm excited to get Sid involved and have some Milk + Bookies parties too.
Biggs also joked that his toddler loved to read "the screenplay for American Pie. That's pretty much all he reads," adding that his actual favorite book was The Very Hungry Catepillar.
He also shared some anecdotes that are probably familiar to just about any toddler parent, including his son's totally relatable preference for playing with things that aren't really toys, according to PEOPLE:
But his favorite toys end up being a coffee cup that he pulled from recycling. Or an empty Perrier bottle.
Biggs and Mollen have also shared a lot of Sid's firsts with the internet at-large, including Instagramming from the delivery room using the hashtag #babybiggs. Though the couple announced that Biggs Baby No. 2 is on the way, no word yet on whether they'll be live-streaming from Labor and Delivery again, and if so, what hashtag they'll be using.