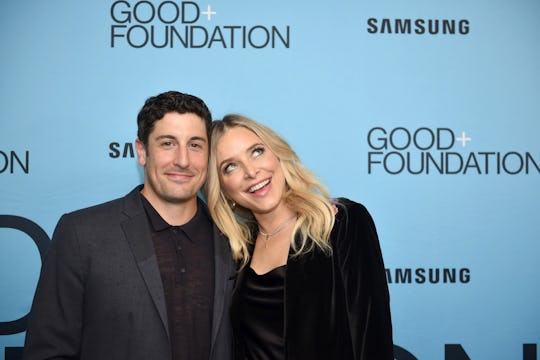 Andrew Toth/Getty Images Entertainment/Getty Images
Jason Biggs Really, Really Tried To Keep Up With Jenny Mollen's Impressive Lunchboxes — PHOTO
Hollywood "fun" couple Jason Biggs and Jenny Mollen are always clowning around on social media, but for Mollen, fashioning healthy lunches for her son is no joke. So when Mollen recently got a couple days off, Biggs tried to keep up with Mollen's impressive lunchboxes and let me tell you, the results are... well, he tried.
It all started when Mollen got serious about lunches for son Sid, 4, posting many impressive sample meals on Instagram, from salmon to cashew-butter and fig-jam sandwiches. But, Mollen is off lunch duty this week as she's currently out of town for a bit (her Instagram shows most recent pics from Spain, but it's not known if that's the same trip).
That's when Biggs, who starred on Orange Is the New Black, sprung into action, trying to outdo his wife... well, sort of.
His hysterical version of a healthy lunch? A packet of Splenda, a partially-eaten bagel and a geriatric-looking avocado (although there is a antioxidant-rich sweet potato in the offerings for good measure).
"With @jennymollen out of town this week, Sid's lunch duty has fallen to yours truly," Biggs just posted. "Turns out she's not the only parent who can #crush the lunchbox game. From top left: Organic half avocado from last night, whole sweet potato (produce code 94074), pb&j on bagel (two bites removed, the way he likes it), burnt gluten-free cookie, and one @splenda packet. #dadsouttherekillingit."
Now, I really appreciate that Biggs, 40, is trying to keep up, and so did many other fans. "You are kicking a** at lunch duty. Daddy daycare for the win," said one, while another wrote, "Nailed It!!"
However, it's clear that Biggs is trying to keep up with the Big Guns, and that ain't such an easy task, as other posters noted.
"Omg! Jenny please go home so your children don't starve or break a tooth!" wrote one fan, while another noted the raw sweet potato: "oh wait but it's not even cooked 😂😂😂. Still got the produce sticker on it." A third user piped up that it "looks like lunch in prison."
While it's not clear if Mollen, 39, has a background in cooking, it does seem like outdoing herself with new concoctions has become something of a mission, from posting a delish-looking cauliflower-crust pizza and sautéed green beans combo to her recent challah salmon and cream cheese sandwich, cut to resemble a bear, featuring sides such as a homemade egg and dairy-free oatmeal cup and cucumbers with pink Himalaya sea salt.
"Bringing it hard for Sid's first day back to school," Mollen posted earlier in the fall, along with a pic of an appetizing sautéed salmon meal featuring rice balls, bell pepper and strawberries, with goat cheese on the side. She added, however, "I don't care how much of this he eats. It's more about constant exposure and pushing his limits."
Biggs and Mollen are also parents of a second son, Lazlo, born in October, 2017, according to E! News. (Lazlo doesn't obviously need a "to go" lunch just yet, so don't worry, I'm sure he'll get fancy feasts for school when the time comes.
Mollen, as the Daily Mail reported, has been open about truly disliking being referred to as "the wife of" someone famous. The actress/writer has, in fact penned not one but two New York Times bestsellers, according to BuzzFeed: I Like You Just The Way I Am and Live Fast, Die Hot. The latter was optioned as a movie for Anne Hathaway to star in, according to Variety.
Jenny and Jason, it's so obvious why fans love you both and especially love keeping up with your parenting adventures on social media. And this most recent share is a gem — if you're ever feeling a little ¯\_(ツ)_/¯ about your ordinary lunch-packing, just have a look at Jason Biggs' attempt.