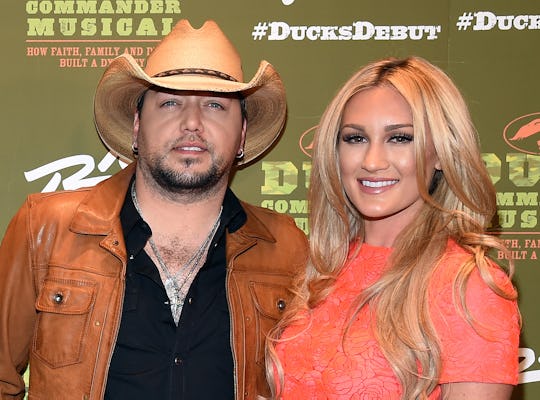 Ethan Miller/Getty Images Entertainment/Getty Images
Jason & Brittany Aldean Announce Baby No. 2's Sex In This Adorable Reveal Video
Some parents-to-be like to be surprised when it comes to the sex of a baby, and other parents like to surprise those around them with the news. Country singer Jason Aldean and wife Brittany Kerr Aldean are clearly the second type of mom and dad, and fans couldn't be happier about that. When the duo figured out that big news was coming their family's way, Jason and Brittany announced their second child's sex in an adorable reveal video that was designed for the fun of the country singer's daughters from his previous marriage.
The "Make It Easy" singer and his wife, a former cheerleader for the Charlotte Bobcats and onetime American Idol contestant, according to Country Living, wanted to do something fun to celebrate the baby news for the benefit of daughters Keeley, 15, and Kendyl, 10, Jason's daughters from his previous marriage, as E! News explained.
In the video, they ask the kids what they think the baby will be. Both Aldean daughters guessed "girl," although for different reasons. Kendyl thought girl because Brittany had already had son Mempis, who is turning 1 at the end of the year, according to People. In the video, daughter Keeley also guessed girl due to Brittany having experienced some morning sickness.
And well...
"Jason and I already know what it is, so this is just for the girls, to see their excitement," Brittany explained in the video. Getting out a baseball and bat, the Aldeans have the big kids pitch their way to the big news... that it's a girl (courtesy of exploding pink fairy dust)!
As the Aldeans previously revealed to People, they underwent in vitro fertilization to conceive after Brittany, 31, was diagnosed with endometriosis. "The IVF was probably harder than the actual pregnancy... it was just such a roller coaster and so difficult," Brittany told People. "It's such high highs and such low lows, and no one really knows that you're going through it all so you have to just put on a game face and pretend that you're not giving yourself shots in your stomach every day, all day."
Jason added that they figured there was no point in waiting to conceive. "After having our son, we knew we wanted to have two kids," Jason, 41, told People. "I have my two older daughters already, so after Memphis was born we knew we wanted to have another one pretty quick — to go ahead and knock it out and have one that was a little closer in age to him."
Now that their wish for a big family is coming true, good times are ahead for the growing, Nashville-based clan, who has had its share of difficulty. Jason has a new album, Rearview Town, as he shared on Twitter. Jason and Brittany seem to have recovered well after surviving the horrific Las Vegas shooting, with Jason having been onstage and a pregnant Brittany watching from nearby, according to People. Just eight weeks later, in December, 2017, Brittany gave birth to Memphis, according to Country Living. "One of the things that helped me, personally, was the birth of my son," Jason told Sirius XM, as reported by Country Living. "Within a couple months, man, I saw the worst thing you can possibly experience and then I saw the best thing you can possibly experience with him being born." (Jason also visited victims of the shooting in the hospital, according to People.)
The couple previously survived harsh criticism in the country-music world for having been spotted together when Jason was still married to first wife, as E! News reported. Since then, Jason has given a number of honest interviews and posted on social media about his growth as a person and past mistakes.
The Aldeans seem like an adorable, blended family to me, and I am glad they are thriving after some challenging times. With a baby girl on the way, I'm wishing the Aldeans the best of luck... although with eager big sisters Keeley and Kendyl as built-in babysitters, they may not need it.