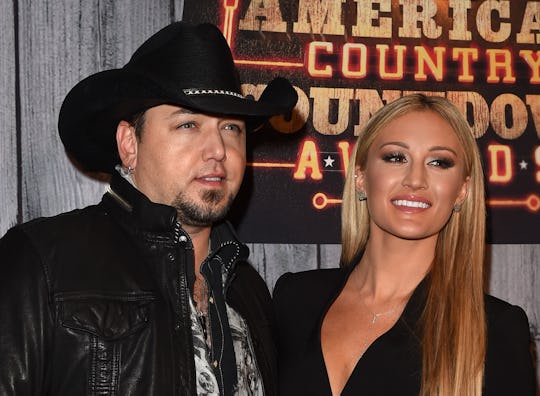 Jason Merritt/Getty Images Entertainment/Getty Images
Jason & Brittany Aldean Are Going To Be Parents!
In perhaps one of the cutest baby announcements ever, country star Jason Aldean and wife Brittany confirmed they're expecting their first child on Monday. The couple took to Instagram to share the exciting news with an adorable photo of themselves sporting matching grey "Baby Mama" and "Baby Daddy" t-shirts, surrounded by blue and pink balloons. And the soon-to-be mama's caption will make you burst into happy tears.
"SURPRISE!!! WE ARE PREGNANT!!! This was the hardest secret we've ever had to keep," 28-year-old former American Idol contestant Brittany captioned the announcement on Instagram. "This journey for us has been full of many happy times & also many tears… The biggest rollercoaster we have ever been on, without a doubt!"
She continued, "All of the moments of heartache were followed by the biggest blessing in the entire world!! We will never take one moment for granted & can't wait to meet you, sweet baby!!!"
The 40-year-old "Dirt Road Anthem" singer, Jason, also chimed in on his own Instagram page about the pair's bundle of joy. "Been hard to keep this secret but we couldnt [sic] be happier to add to our family. This year just gets better and better," he captioned a different photo of the expectant parents in their matching tops complete with a baby emoji and the hashtag, "bunintheoven."
It's the first child for the pair, who officially began dating in March 2014 —about a year after the country star was at the center of a cheating scandal that ultimately led to the end of Jason's first marriage with his high school sweetheart, Jessica Ussery, according to Us Weekly. Jason has two daughters with Ussery: 14-year-old Keeley and 8-year-old Kendyl.
About a year after taking their relationship public, the soon-to-be parents tied the knot in March 2015 at a ceremony in Mexico, according to People.
Back in March, the couple took to Instagram again to celebrate the couple's 2-year wedding anniversary. "Happy anniversary, sweetest man," Brittany captioned the post of them indulging in a plate of oysters.
While the pair did not share their baby's due date or how far along the first-time mom is, it's a safe guess that she's still in her first trimester; Expectant parents tend to wait to share this exciting news around until that point, since miscarriage risks tend to drop. With that in mind, fans can probably expect their bundle of joy to be a winter baby, possibly arriving in December or January.
Considering how cute their pregnancy announcement was, hopefully these excited parents will keep fans in the loop over the coming months and will share a few glimpses at their impending bundle of joy.