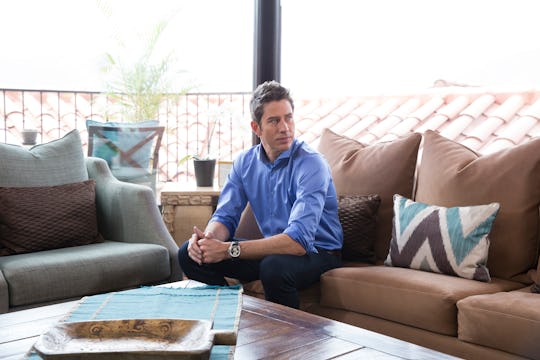 Paul Hebert/ABC
Jason Mesnick's Advice To Arie On 'The Bachelor' Proves They Have A Lot In Common
Monday night's Bachelor finale is shaping up to be an intense one. Chris Harrison brought out two former Bachelors, Ben Higgins and Jason Mesnick, to give Arie some words of wisdom. But Jason Mesnick's advice to Arie on The Bachelor proves that they have more in common than Arie probably realized going into the season. Season 22's finale will probably be most like Jason's, which happened way back in 2009.
Arie pulled two moves that are considered no-no's in Bachelor Nation. He told two women he loved them, and he has a change of heart in the end. Now, no other Bachelor has done both of those, but two have done one each: Ben said he loved two women, and Jason had a change of heart. This is why they were brought back for the live finale — to give Arie advice (a bit after the fact, which isn't the most helpful, but hey, that's The Bachelor for you).
Both men gave Arie some solid advice, I'd say. Ben went up first: Arie "has to stick with the fact that he did that [say "I love you" to two women]," he told Chris Harrison. "He has to own up to that and deal with the consequences."
Up next was Jason, who had one of the most controversial endings of all time. On Season 13 of The Bachelor, Jason proposed to one woman... and broke it off on After the Final Rose a few months later. He initially proposed to former Dallas Cowboy cheerleader Melissa Rycroft, but since decided that he wanted to be with his runner-up, department store buyer Molly Malaney. After dumping Melissa on ATFR, Jason opened up the possibility of he and Molly getting back together again right there on TV (and yes, in front of Melissa). Not only did they do just that, but Jason and Molly got married and have been for eight years. They now have two kids.
Jason chose to own up to his regret and break up with his fiancée on Arie's After the Final Rose. "I can see how much pain he's in, it's so hard," Jason told Harrison. "It's the hardest thing getting to the end. You can't relate unless you've been there." He continued, "My advice based on what I've been through is you gotta be you. You came here to find someone to spend the rest of your life with. Find that person, make that decision."
Honestly, it all worked out for Jason. He followed his heart, and now he has a happy marriage. If I were Arie, and I had a struggling change of heart, I would take Jason's advice. He's been there — and he didn't handle it well at the time, but it seemed to work out in the end. What about Melissa, though, the woman who thought she'd marry Jason at the end of all this?
Bachelor Nation has nothing to worry about on that front; Melissa has done just fine after The Bachelor drama. She herself found true love with a man named Tye, whom she was dating before she went on the show. She's also had a ton of career success: the former cheerleader has been on shows like Access Hollywood Live, Dallas Cowboys Cheerleaders: Making the Team, FabLife, and Good Morning America. So, yes, Season 13's explosive ending all worked out in the end.
I'm confident that while Arie's ending will be just as controversial, it'll all work out for everyone involved as well. Who knows, maybe in nine years Arie will be on The Bachelor finale advising the Season 31 lead what to do when he also has a change of heart... but for now, he has to deal with it all in real time.
Check out Romper's new video series, Romper's Doula Diaries:
Watch full episodes of Romper's Doula Diaries on Facebook Watch.